The strange riches of cultural exchange
Ping Lu , the nation's representative to Hong Kong and a prominent writer, visited Beijing recently to attend a book fair in her capacity as consultant to the Taiwan Publication Association. Her visit was the first by a director of the Kwang Hwa Information and Culture Center, Taiwan's de facto consulate in Hong Kong. She spoke to 'Taipei Times' reporter Joy Su in Hong Kong this week about her visit and the role that cultural exchange plays in forging better cross-strait relations
Taipei Times: How did you manage to get your visa to Beijing so quickly, given the office that you hold? \nPing Lu (平路): I am also a writer ... and I think the book fair was a chance for Taiwan's publishing industry -- and its hard-earned achievements and development -- to be represented. \nThe book fair was something that I was interested in and is something I think that both government and non-government sectors should push for. As it happens, the publishing industry is also the one area within cross-strait relations that has seen substantial achievement. It might be the sector with the most concrete experience in terms of cross-strait exchanges. \nI feel that my personal status as a writer and my familiarity with people in the publishing industry helped in planning the visit. \nTT: Do you think that being allowed to visit is a gesture of goodwill on China's part? \nPing Lu: It is my hope that China can respect the mutual goodwill and sincerity that is exhibited in cultural exchange, and I do feel that China respects the achievements already made in the field [of publishing] by so many years of people coming and going [between Taiwan and China.]... \nThey [the Taiwan Publication Association] invited me, so I decided to apply to visit. \nOf course, I had to get MAC's [Mainland Affairs Council] approval for the visit first, and they agreed. China also authorized my visit, and in the end everything was approved. \nI think there must have been some friends involved who provided assistance. But as for their reasons for approving my application, I can't say anything from where I stand ... but there must have been some understanding and goodwill in the process. \nTT: Did you meet any government officials? \nPing Lu: Yes, but the visit was made possible by accumulated efforts that resulted in a good platform for exchange. \nIf I were to name all the officials I met, it would seem as if it were my own achievement, when actually it had nothing to do with me. Even if I had something to do with it, it was down to the efforts of all involved. \nIt is better not to say anything, for to do otherwise would ruin the mutual trust that has been built up, and the advantage of cultural exchange is specifically that it can build true understanding and trust. \nBetween two people -- between a Taiwanese and a Chinese -- you need to have mutual understanding to resolve existing differences. \nTT: What role does cultural exchange play in easing cross-strait tensions? \nPing Lu: I really believe that Taiwan's strength lies in its culture. It is something extracted from years of democratization. \nThe term "culture" encompasses Taiwan's hard-earned achievements. So I hope that we can let the world understand this, especially Hong Kong and China. \nI also believe that, under any circumstances, culture is the best antidote to animosity. Cultural exchange is obviously not trying to achieve anything in particular -- there is no political ambition. But even without a specific goal, it is capable of resolving unnecessary animosity. \nFor instance, people from Hong Kong love to go to Eslite Bookstore in Taiwan ... They've also started going to resorts in southern and central Taiwan and participating in various festivals, such as the seasonal tuna festivities in the south. These are all things that cannot be found in Hong Kong. \nThis is why I think Taiwan has something to offer Hong Kong and China in the future. Caught up in the breakneck speed of development and growth, China has missed out on many of the details that make up the best parts of Taiwan's culture. \nWhen [people in Hong Kong] get to know people working on cultural preservation in Taiwan, they will realize that it is impossible for Hong Kong to display a similar cultural configuration. It is something made possible by civil society and built over time. \nThis is not something we need to particularly push for -- it happens naturally, because Taiwan's culture really is something good, it really is Taiwan's strength. \nTT: Will these cultural exchanges become more frequent? \nPing Lu: This is where culture is so extraordinary -- it has no goal, but it actually achieves some sort of goal. If you sincerely want to push certain political ends, then it is clear to everyone that the culture is fake and no longer beautiful. This would take us back to the martial-law era in Taiwan. \nThis is exactly where Taiwan has most improved over the years -- everyone understands this now. There is new respect for culture and the humanities. Culture is a goal in itself. You sincerely work to cultivate it, and you naturally bring out Taiwan's strongest points in doing so. \nWhy is there so much animosity [across the Taiwan Strait]? It is because Taiwan has been reduced to a faceless entity. \nWhen all the detailed layers of a society are omitted, enmity arises. However, cultural exchange help -- by allowing others to experience the abundance and exquisite richness offered by a pluralist society.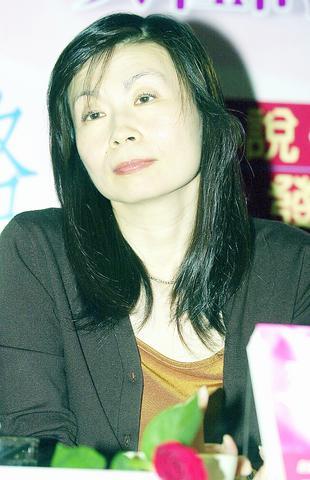 Ping Lu, director of the Kwang Hwa Information and Culture Center -- Taiwan's de facto consulate in Hong Kong -- says culture and cultural exchanges are the best antidote to animosity.
FILE PHOTO: CHIANG YING-YING, TAIPEI TIMES.
Comments will be moderated. Keep comments relevant to the article. Remarks containing abusive and obscene language, personal attacks of any kind or promotion will be removed and the user banned. Final decision will be at the discretion of the Taipei Times.