Epileptics face a multitude of societal barriers
DISCRIMINATION In Taiwan, people with epilepsy are held in low regard by the majority of people, even though the disorder can be cured
It was a cloudy afternoon. Mist hung above the tall green firs around the log cabins, where the summer camp activity disrupted the usual quiet. The children were bustling in and out of the largest bungalow in the Sitou Forest Recreation Area, chasing their paper planes into the drizzling rain. Voice of doctors reporting current medical treatments on epilepsy were still still audible outdoors. \nThe 41-year-old patient A-fong's (阿芳) confession almost ebbed into the background noise, "I would never admit to my friends that I had epilepsy, if I had not been cured," she said. \nA-fong was diagnosed with epilepsy at the age of nine. Many times, she found herself lying in bed at the school's healthcare room after recovering from a seizure, not knowing what had happened to her for the past few minutes. At home, she sometimes unconsciously brushed her teeth twice, turned on the gas twice, kicked over the furniture, and bruised herself. For A-fong, home was still a dangerous place. Her parents quit their jobs to take care of her full-time until a brain operation cured her about six years ago. \n"I did not expect the surgery to cure me. Really, I was prepared to bury the secret for the rest of my life," A-fong told The Taipei Times. \nIn the past when medical science was not as advanced as it is today, epilepsy was known as "yang tien fong" (羊癲瘋), a derogatory term meaning "cuckoo." Some think the disorder is caused by an attack by demons. \nDespite the fact the term is not used much any more, public understanding of the neurological disorder is not improved. Epileptics are still banned from public swimming pools and from driving, even when their conditions can be controlled by medication and pose no threat to public safety. Lai Chi-wan (賴其萬), the executive secretary of the Ministry of Education's Medical Education Council and a neurologist who practiced over twenty years in the US, cited an opinion poll to highlight the social discrimination against epileptics in Taiwan. The poll showed that while 18 percent of the interviewees in the US refuse to hire epileptics, and disagree with their children's marriage with epileptics, 70 percent of the people surveyed in Taiwan responded negatively to the idea \nBut epilepsy is not a rare disorder. According to statistics from Taiwan Epilepsy Society, one in 100 people in Taiwan has epilepsy, and 46,000 have severe forms of recurrent disorder. Most patients develop seizures in childhood and adolescence. \nThe seizures sometimes impair children's cognitive ability and causes varying degrees of mental retardation, depending on which part of the brain is affected. "We call children with epilepsy `lightning kids.' By the name, we hope children can more easily come to terms with the disorder," said Chi Ching-Shiang (遲景上), director of the Association of Children with Epilepsy, an organization which helped hold the summer camp for epileptic children last weekend. \nTo battle discrimination, doctors and psychiatrists said patients must leave behind a sense of inferiority. Lai recounted a story of an eight-year-old patient who took to the podium and introduced herself to her new classmates. "She told them that she has epilepsy and asked them if they know the disorder. She taught them to make sure her head is away from pointy objects when she has seizures. And she promised them she will be fine in a few minutes," said Lai. \nIf patients can abandon grief and refuse to be isolated, they can become vocal advocates for epileptics. \nThe low level of public understanding aside, epileptics also suffer from a dwindling supply of medication. Current clinical results demonstrate that over 50 percent of epileptics can be cured by medication. Nevertheless, while a wider range of anti-epilepsy drugs can be used to reduce severity and frequency of seizures, patients and doctors have found it harder to get drugs of higher quality and with fewer side effects. \nThe Department of Health's hospital budget plan launched last month forces hospitals to lay down quotas on how much a doctor can spend on a patient. Some hospitals reportedly have locked drugs of higher quality and price inside their computerized data base. Doctors can see the drugs available in the computer screen during diagnosis. Yet they can not prescribe them. \nAccording to Kuan Shang-yung (關尚勇), neurosurgeon at the Neurological Institute of Taipei Veterans General Hospital, to treat a patient with an active form of epilepsy will cost about NT$6,000 per month, far exceeding the monthly quota of NT$1,000 for each patient at major hospitals. \n"We understand hospitals must cut down on spending. But the question is, at whose expense are these cuts being made?" wondered Kuan. \n"I hope it is not the epileptics." \nA-fong sat on the dewy stone stair outside of the bungalow hall, looking at children running around with their paper planes. "I was not like them when I was their age. I was so shy," she said. \n"I knew I was sick."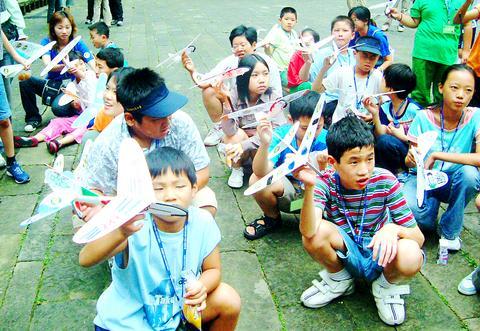 Children with epilepsy hold paper planes at a summer camp in Sitou Forest Recreational Area in Nantou County last weekend. The summer camp was held to promote public awareness of children with epilepsy.
PHOTO: WANG HSIAO-WEN, TAIPEI TIMES
Comments will be moderated. Keep comments relevant to the article. Remarks containing abusive and obscene language, personal attacks of any kind or promotion will be removed and the user banned. Final decision will be at the discretion of the Taipei Times.