Rights group urges quick political asylum
DIFFICULTY The absence of a political asylum law complicates the case of two dissidents who fled from China on fishing boats, the group maintains
The Taiwan Association for Human Rights (TAHR) called on the government to speed up its handling of the asylum applications of Chinese dissidents Chen Rong-li (陳榮利) and Yan Peng (燕鵬) yesterday. \n"The government says that it has difficulties dealing with Chen and Yen's cases because they came here illegally. But how many dissidents are able to escape through legal means? Yan and Chen came here because they had faith in Taiwan's democracy. As of today, they are indefinitely stuck at a refugee center in Ilan," TAHR representative Ko Yu-chen (顧玉珍) said. \nChen and Yan fled to Taiwan to escape persecution in China for participating in pro-democracy activities, the group said. \nChen, 35, fled on a fishing boat to Kinmen off China's southeast coast on Jan. 31 in a bid to seek asylum in the US. Kinmen police transferred him to the Mainlander Detention Center in Ilan on March 12. \nYan, 40, joined Chen at the center three months later after going through a similar process. \nThe group said that finding support for Yan and Chen was made more difficult due to the absence of a political asylum law and comprehensive immigration office. \nPolitical asylum cases are handled under section three, Article 19, of the Regulations Governing Approval for the Residency or Permanent Residency of Mainland-area Peoples in Taiwan through Family (大陸地區人民在臺灣地區依親居留長期居留或定居許可辦法). The article allows Mainlanders to apply for residency if they are proven leaders of pro-democracy movements and are facing persecution. \n"The government claims it has had difficulties because there is no clear law regarding political asylum pleas. An asylum law would regulate handling procedure, but in the absence of such a law we have no right to restrict the quest for freedom of people facing persecution," said Mab Huang, head of Soochow University's Chang-fo Chuan Center for the Study of Human Rights. \nIn response to the association's calls, Yang Chia-chun (楊家駿),director of the Department of Legal Affairs at the Mainland Affairs Council (MAC), said that the council was doing its best and that the two cases were progressing in accordance with procedure. \nApplications for political asylum go through three stages, Yang said. \nFirst, the government must confirm the identity of the dissident involved. Second, the political activities and persecution of the dissident must be verified. Third, having completed the background check, the government must decide where to place the refugee, either by helping him or her seek asylum in a third country or offering asylum in Taiwan. \n"Chen's case is already at the third stage and we are negotiating with foreign countries on his behalf. \n"Yan's plea has cleared stages one and two and is currently entering stage three," Yang said. \nIt is unclear, how long negotiations will last, he said. \nYang refused to reveal which countries are involved in negotiations over Chen's case out of concern for their diplomatic ties with China.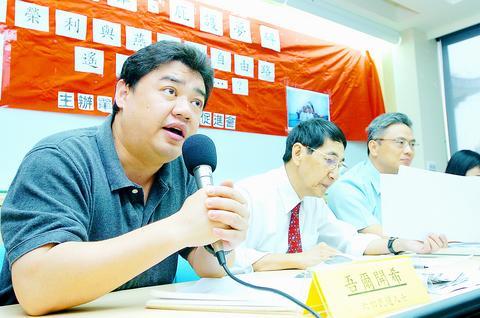 Wu'er Kaixi, left, one of the leaders of the 1989 dissident student movement in Beijing, attends a press conference with representatives of human rights groups yesterday. The groups urged the government to speed up its handling of the asylum applications of Chinese dissidents Chen Rong-li and Yan Peng.
PHOTO: GEORGE TSORNG, TAIPEI TIMES
Comments will be moderated. Keep comments relevant to the article. Remarks containing abusive and obscene language, personal attacks of any kind or promotion will be removed and the user banned. Final decision will be at the discretion of the Taipei Times.