Festival to showcase wood sculpture
Getting global exposure for local talent and boosting tourism are the aims of this year's International Sanyi Wood Sculpture Festival, which will take place in Miaoli County from Aug. 7 to 29.
The local sculpture scene is seeking a niche in the international market, said Yang Yung-zai (楊永在), director of the Taiwan Wood-carving Association.
"Taiwanese wood craftsman cannot compete with the inexpensive and mass-scale output of China and south Asian countries," he said after a press conference yesterday at Taipei Main Station.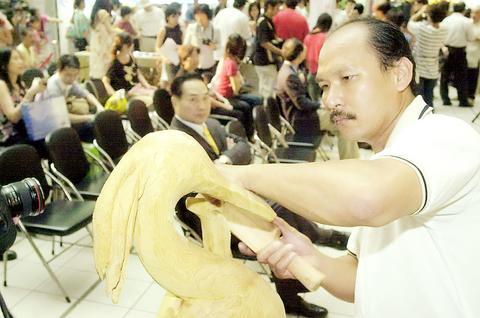 Director of the Taiwan Wood-carving Association Yang Yung-zai sculpts wood at a press conference in the Taipei Main Station yesterday to promote this year's International Sanyi Wood Sculpture Festival, due to take place in Miaoli County next month.
PHOTO: CHIANG YING-YING, TAIPEI TIMES
"We must move from simple crafts into the realm of art," he said, while noting that the sculpture of Sanyi township is unique because it emerged from a native crafts culture instead of an art academy.
Besides showcasing traditional crafts and wooden instruments, this year's festival will feature the 2004 Euro-Asia Wood Sculpture Cultural Exchange Exhibition at the Sanyi Wood-Carving Museum.
Sculptures from Japan, South Korea, Spain and Germany will be displayed next to local award-winners and masters' work.
Dance and music groups from 11 countries have also been invited to fill the streets with sight and sound.
Live sculpting performances, do-it-yourself carving stations, and a giant wood block labyrinth will target families and children. Local Hakka and Aboriginal music and gastronomy will also be important attractions.
Sheu Wen-sheng (許文聖), vice chair of the Tourism Bureau, said that this year's festival puts the local sculpture scene in the national spotlight for the first time after 10 years of small-scale operation.
"Sanyi township's organizers have the aid of the county government, and the festival will be one of our bureau's strongly promoted summer events," he said.
The Taiwan Railway Administration is cooperating with local officials to facilitate transportation to the festival from all parts of the island.
The bureau hopes to attract large numbers of foreign tourists in addition to local visitors to this cultural event, Sheu added.
Comments will be moderated. Keep comments relevant to the article. Remarks containing abusive and obscene language, personal attacks of any kind or promotion will be removed and the user banned. Final decision will be at the discretion of the Taipei Times.