`Three Amigos' propose new school
Three Democratic Progressive Party (DPP) legislators yesterday mocked pan-blue legislators' recent mistakes in identifying scandals and announced they would form a "Three Amigos School" (三寶學校) to teach the pan-blue legislators to improve their political sense.
Legislators Lin Chung-mo (林重謨), Tsai Chi-fang (蔡啟芳) and Hou Shui-sheng (侯水盛), who are known as the DPP's "Three Amigos" (三寶) for their controversial and clownish politics, yesterday pointed out that certain pan-blue legislators had been making embarrassing mistakes in public in recent years.
They mentioned the example of the People First Party (PFP) Legislator Feng Ting-kuo (馮定國) having mistaken the President's Official Residence apartment complex in Nantou County for the real thing.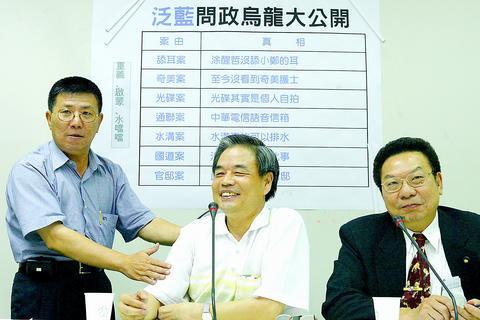 DPP legislators Tsai Chi-fang, Lin Chung-mo , and Hou Shui-sheng, left to right, hold a press conference yesterday to unveil their ``Three Amigos School,'' whose training they said would improve the quality of the legislative branch.
PHOTO: YEH CHIH-MING, TAIPEI TIMES
The three legislators said tongue-in-cheek that they were worried about the pan-blue camp's worsening political performances and that they would form the Three Amigos School to help those in need to improve their political sense.
"The pan-blue legislators are prone to hold press conferences in a rush to reveal so-called scandals even before they verify the evidence, and they often talk about these scandals so firmly that they cannot withdraw their words later when they find out that their scandals were not scandalous," Lin said.
The three legislators reminded the public of notorious incidents, including "Eargate," in which PFP legislator Diane Lee (李慶安) wrongly accused former Department of Health head Twu Shiing-jer of (涂醒哲) harassing a man and and licking his ear.
"We would like to start a Three Amigos School soon to teach students of all kinds about the correct ways of politics," Lin said.
"Otherwise the incessant embarrassing mistakes made by the PFP legislators damage the images of both the PFP and the legislature," he said.
Tsai meanwhile pointed out that although the Three Amigos are sometimes controversial, they have never made mistakes with facts.
"We Three Amigos are most proud of the fact that we never mistook one thing for another. The PFP legislators should learn from us," Tsai said.
Hou also said that the trio's proposed educational group is an institute based on "love for Taiwan."
"We are starting the Three Amigos School to teach the legislators to tell true from false, and to eliminate their behavior of making wrong accusations before verification," Hou said.
Lin, Tsai and Hou's previous controversial statements attracted heavy criticism, and gradually they aquired the Three Amigos nickname from some of their detractors.
They have decided to turn the criticism into impetus for their legislative campaigns, so they say they plan to run a joint campaign in the legislative elections later this year.
Comments will be moderated. Keep comments relevant to the article. Remarks containing abusive and obscene language, personal attacks of any kind or promotion will be removed and the user banned. Final decision will be at the discretion of the Taipei Times.