Theme park under attack for breeding rare mutated tiger
Animal-rights activists yesterday slammed the private Leofoo Village Theme Park in Hsinchu for displaying a white tiger and attempting to breed it, saying that breeding white tigers is an act of brutality against animals and is motivated solely by a desire to make money.
According to the Environment & Animal Society of Taiwan, there are less than 300 white tigers in the world. Despite the animals' rarity, the society says that they do not qualify as an endangered species because they are not in fact a species -- instead, they are ordinary Bengal tigers with a color mutation.
Early this month the theme park acquired two tigers -- a white tiger from Indonesia, and a female tiger which looks like an ordinary Bengal tiger, but which was bred from white parents.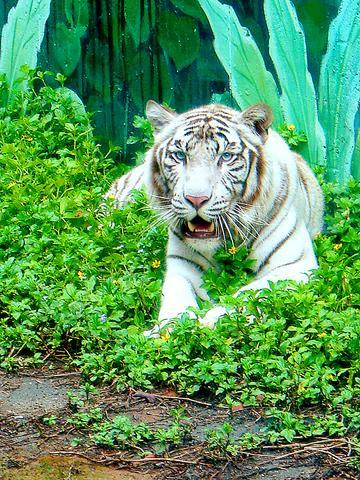 The white tiger at Leofoo Village Theme Park in Hsinchu County is pictured earlier this month.
PHOTO COURTESY OF ENVIRONMENT AND ANIMAL SOCIETY OF TAIWAN
The society says that all existing white tigers are descendants of one male specimen named Mohan, captured in 1951. Since then, efforts to breed white tigers from a limited gene pool have resulted in birth defects such as club feet, cleft palettes and crossed eyes, according to the society.
for greed's sake
The society maintains that breeding white tigers has nothing to do with conservation but instead is a practice carried out for greed's sake by zoos, breeders and circuses.
The theme park's administration told the Taipei Times yesterday that its mission is to preserve rare animals and that the white tiger at the park is not some kind of natural aberration.
"White tigers are actually as healthy as normal Bengal tigers. The white tiger that we have is in very good health," said Cherry Huang (黃倩縈), head of the theme park's marketing department.
Huang said that the white tiger was brought into the country in accordance with the law.
"We just want to introduce rare things to people in Taiwan," Huang said.
At a press confersence, the society released a video showing the rare tiger's activities at the theme park.
"These unsightly and unhealthy white tigers have ended up as specimens," society president Wu Hung (悟泓) said.
"We are opposed to producing more white tigers. The theme park is actually creating new specimens of these tigers," Wu said.
genetic flaws
Society director Chen Yu-min (陳玉敏) said that genetic flaws such as those that account for white tigers' coloring are usually not passed along in the wild because white animals in a jungle environment are at a heavy disadvantage with their inability to hide and to stalk prey.
The society also released a letter yesterday from Zoocheck, a animal-protection organization in Canada.
Zoocheck director Rob Laidlaw condemned the theme park's introduction of the white tiger.
Laidlaw argued that staging popular animal exhibits in this fashion served no genuine conservation purpose.
"The material and financial re-sources dedicated to these animals would be better spent on helping tigers in the wild and in legitimate captive propagation programs," Laidlaw wrote.
Society activists said that they, along with other groups, would soon launch a boycott of the theme park.
Since early this month, society activists have visited the zoo three times to observe the conditions under which the white tiger is exhibited.
"We don't see any serious animal conservation education. All we see is white tiger T-shirts and mugs," Chen said.
Comments will be moderated. Keep comments relevant to the article. Remarks containing abusive and obscene language, personal attacks of any kind or promotion will be removed and the user banned. Final decision will be at the discretion of the Taipei Times.