Defending ecological engineering
Criticism has been leveled at government and industry for the quality of construction projects in the wake of Tropical Storm Mindulle. Public Construction Commission Vice Chairman Kuo Ching-chiang, a champion of ecological engineering, told 'Taipei Times staff reporter Chiu Yu-Tzu that the nation has no choice but to continue with these projects to ensure not only people's safety but also the nation's biodiversity
Taipei Times: You were criticized by political figures because embankments in the disaster zone were destroyed. Some attributed this failure of flood-prevention measures to your promotion of ecological engineering methods. How do you respond to this criticism?
Kuo Ching-chiang (郭清江): There are no grounds for the accusations. Certain political figures know nothing of ecological engineering methods. In addition, they have failed to provide any evidence [for their claims]. My investigation shows that most of the incapacitated embankments were built a long time ago in conventional ways, which rely heavily on the adoption of reinforced concrete.
TT: What is an ideal construction that adopts ecological engineering methods or concepts of ecotechnology?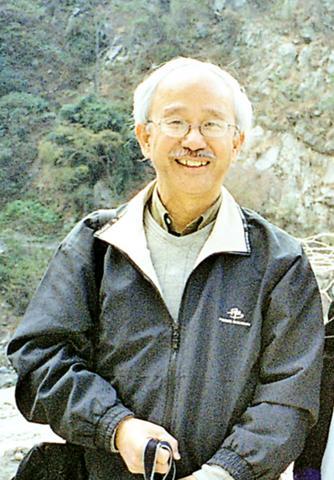 Kuo Ching-chiang says that old construction techniques are to blame for most of the damage that followed Tropical Storm Mindulle.
PHOTO: CHIU YU-TZU
Kuo: It must be a construction that is built on the basis that both biodiversity and human safety are ensured. After all, sustainable development requires the implementation of appropriate environmentally friendly technologies.
TT: What are some examples of this?
Kuo: Reconstruction work on the Houfantzukeng River in Shuang-hsi Township, Taipei County, is one. In addition, we have others in central Taiwan. Most of them actually survived the recent floods.
(Note: After the 921 Earthquake in 1999, Kuo urged Taiwanese engineers to abandon cement and take into account the ecological and social sustainability of new technologies. On the Houfantzu-keng River, government engineers assisted with the building of wood piles, boulder embankments and the rearrangement of rocks already in the river to control current speed.)
TT: Why have you become a target of criticism for the failure of some embankments?
Kuo: Some of the constructions ruined by the floods were actually supervised by the Water Resources Agency. Due to resistance by some engineers in adopting the new concepts of ecological conservation, these constructions were built using conventional methods and were not concerned with ensuring biodiversity.
TT: Why do some engineers feel uncomfortable about adopting ecological methods?
Kuo: Knowledge is power. Without knowledge, you feel powerless. For most engineers receiving conventional training, it's hard to accept revolutionary concepts that promote ecological pre-servation. So far, there has been no innovative construction of retaining walls alongside rivers. They are reluctant to abandon reinforced concrete. The failure of conventional embankments during the recent floods can be attributed to not only excess rainfall but also old and deficient construction. It has nothing to do with our promotion of ecological methods.
TT: Do you have evidence of the advantages of adopting these methods?
Kuo: In Wufeng township, Tai-chung County, only three out of more than 60 sites on hillsides where these methods were adopted were affected by the floods. In Tungshih township, Taichung County, we found that only two out of about 150 sites using the methods had collapsed. At a site in Hoping township alongside the Wushihkeng river, a tributary of the Ta'an River, a restored and steep 350m-long slope which collapsed during the 921 Earthquake remained covered with vegetation.
TT: Will you continue to promote ecological engineering methods?
Kuo: Certainly. Taiwan has no choice but to continue adopting such means in future construction projects to ensure not only public safety but also biodiversity. In terms of sustainable development, engineering methods that pay no attention to the preservation of biodiversity would eventually result in a negative impact on social development.
TT: Why is it good for Taiwan?
Kuo: More than a month ago, I was invited to give a speech at the John F. Kennedy School of Government at Harvard University. At a meeting entitled "Lessons learned from Taiwan," I gave several examples of Taiwan integrating concepts of ecological conservation with engineering methods. The attendees including representatives from developing countries and UN experts, were enthusiastic about Taiwan's performance. Representatives from Tanzania, Kenya and India said to me that Taiwan should pass on such expertise to their countries. This will be an effective tool not only to mitigate damage brought on by natural disasters but also to strengthen diplomatic relations. I understand that ecotechnology transfer will be carried out in the near future though official channels.
TT: Are ecological engineering methods part of a global trend?
Kuo: Absolutely. From June 28 to July 2, I attended the 9th International Symposium on Landslides held in Rio de Janeiro, Brazil. My presentation at the symposium delivered the message that Taiwan is promoting ecological engineering methods. Many representatives from countries that suffer from similar natural disasters said that Taiwan's experience deserved to be studied in more detail. Unfortunately, voices opposing ecological engineering methods are from within the country. We need to think about this situation very carefully.
TT: Are you confident you can convince your critics that your position is the right one?
Kuo: Many political figures in fact understand the importance of taking environmental protection and ecological conservation into account when implementing policies. However, it's not easy for them to make themselves accept new practices. Construction costs for ecologically restoring one hectare of a slope are only about one-tenth of the conventional practice. It's almost impossible for political figures to reap profits from such constructions.
Comments will be moderated. Keep comments relevant to the article. Remarks containing abusive and obscene language, personal attacks of any kind or promotion will be removed and the user banned. Final decision will be at the discretion of the Taipei Times.