Young artists awarded for creativity
CREME OF THE ART CROP The winners of this year's Taipei Fine Arts Museum awards were selected by the judges not only for their originality, but to nurture their work and to propel them onto the international stage
The four winners of this year's Taipei Arts Award -- Chiou Jyian-ren (邱健仁), Tseng Yu-chin (曾御欽), Sheu Jer-yu (許哲瑜) and Li Guo-cheng (李國成) -- were chosen from an unprecedented pool of 399 artists yesterday.
"This year's contest has been particularly diverse," commissioner of the Taipei Department of Cultural Affairs Liao Hsien-hao (廖咸浩) said.
The broad range of mediums and creative mix of genres is a sign of vitality in Taiwan's art world, he said.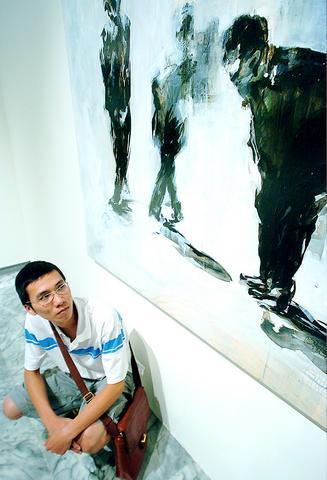 Chiou Chien-jen, winner of the 2004 Taipei Arts Prize poses with his oil painting entitled Narrative.
PHOTO: LU JUN-WEI, TAIPEI TIMES
Taipei Fine Arts Museum will exhibiting winning works, 11 honorable mentions, and 14 semi-finalist pieces from July 3 to Sept. 19.
Although the age of participating artists ranged from 18 to 73, all four of the winners are in their 20s or 30s. Judge Chen Tai-seng (陳泰松) said the award has historically been an honor for young, rising artists.
"Established artists don't usually compete for this prize," he said. "Many young winners go on to do well in national and international art circles."
"We hope to recommend these talented young artists to the art world at large," museum director Huang Tsai-Lang (黃才郎) said.
Last year's winners discovered new creative opportunities within Taiwan. South Korea and Japan, he said.
Chen said that the "avant garde" spirit and social relevance were two particularly important criteria in the judging process.
"We placed great weight on future potential rather than finesse and technical perfection," he said.
Chen indicated that this was part of a liberal trend in the award's historical development. "At its beginning, awards were given within rigid genre classifications according to technique," he said.
"After the competition changed names in 2001 from the Taipei Arts Exhibit to the Taipei Arts Award, medium categories were abolished from the judging process," exhibit curator Mei Ching Fang (方美晶) said. Artists were given the freedom of unlimited artwork size this year, she added.
Chiou, currently a student at the Taipei National University of the Arts, said the competition was a liberating experience.
"After attending art school all my life, all I knew how to do was paint what I was told," he said.
"But with this series, I began to capture the feeling that I want for myself," he said.
"I'm very fortunate that my work received positive acclaim from the judges."
Chiou said he would continue to develop his nascent style.
Photographer Sheu, 36, was the oldest of the four winners and expressed gratitude for the award's encouragement to young artists. "I don't remember this sort of opportunity when I was fresh out of army service," he said.
Sheu, who earned an MFA at Long Island University in New York, said he still envied New York artists for the supportive environment they enjoyed. "There's a far stronger structure for the sale of art in New York, which is very important for young artists," he said.
"We're all working to make Taiwan a better environment for the arts," Chen said.
"But sometimes there's only so much you can do with such a small market."
Comments will be moderated. Keep comments relevant to the article. Remarks containing abusive and obscene language, personal attacks of any kind or promotion will be removed and the user banned. Final decision will be at the discretion of the Taipei Times.