Landlords shun skin patient group
REJECTION The Icthyosis Association is looking for a space to open a store, but landlords have turned them down 100 times
Icthyosis Association director Chen Li-chin (陳麗琴) yesterday urged Taiwanese landlords not to be afraid of the so called "fish scales" and red skin of icthyosis patients, and to treat these people with respect.
The association plans to open a second-hand goods charity store called Half-Half Red Child Center which would employ and raise funds for icthyosis patients. After a two-month search, the association has been unable to find a space for the store.
"Most people are frightened of possible contamination when they see our patients up close for the first time," Chen said at a press conference yesterday. "But the disease is completely genetic and non-contagious."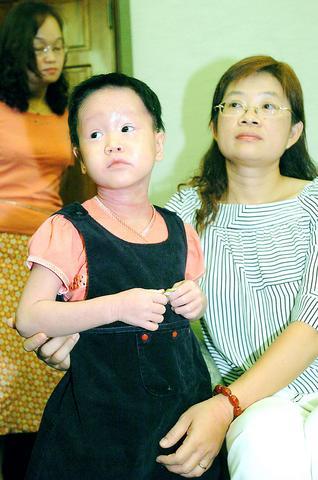 A young icthyosis patient looks into the distance while accompained by a family member during a press conference held at the Legislative Yuan yesterday. The press conference was held to highlight the difficulties icthyosis patients suffer as a result of the genetic disease.
PHOTO: GEORGE TSORNG, TAIPEI TIMES
Ernest Shih (施一新), child dermatologist at Chang Gung Children's Hospital, verified her statement.
"The appearance and odor of their skin makes people unwilling to associate with icthyosis patients," he said, "but there is no real danger."
The Council of Labor Affairs agreed to subsidize the creation of the store on May 19, giving organizers a two month deadline for landing a storefront. As July 19 deadline draws near, prospects remain dim, Chen said.
Chen added that the association has been turned down by over 100 landlords. Some owners initially accepted down payments on rent, only to break the contract once they saw patients first-hand. Some landlords called the patients "dirty people" to their faces, she said.
Council of Labor Affairs employment training officer Chiu Meng-yao (邱孟堯) said yesterday that the deadline would most likely be extended another two months.
Legislator Jiang Chi-wen (江綺雯) said that employment opportunities for the patients would be generated by the new store, which is modeled after Child Are Us bakeries, created on behalf of the mentally disabled.
"The proposed center would bring isolated patients into society and give them a certain degree of independence," Chen said.
Association Secretary Chang Wei-sheng (張瑋升) said there are roughly 1,200 icthyosis patients in Taiwan, but the majority stay indoors for most of their lives.
"It is extremely difficult for the patients and their families to step out when they are so harshly rejected by society," she said.
Patients with severe icthyosis are not mentally handicapped, but are often turned away by school authorities because the disease is misunderstood, said Chang.
Low levels of education on the affliction makes the already difficult task of finding employment virtually impossible, she added.
Chen said that the store would also be an important source of funds for poor or abandoned icthyosis patients. According to her, basic skin maintenance for patients can cost from NT$10,000 to NT$30,000 a month, depending on the patient's condition.
Constantly flaking skin must be carefully cleaned and medicated each day, but most of the necessary products are not covered by National Health Insurance, Chen said.
Chiang also urged landlords in Taipei with first floor storefront spaces to help the patients by contacting the association with offers.
Comments will be moderated. Keep comments relevant to the article. Remarks containing abusive and obscene language, personal attacks of any kind or promotion will be removed and the user banned. Final decision will be at the discretion of the Taipei Times.