Scientists tracking storm
BLOWING DANDELION The nation's weather bureau is using high-tech storm sensors dropped into the clouds to get more accurate forecasts
The Central Weather Bureau issued a typhoon warning yesterday to ships in the Bashi Channel, advising them of potentially heavy rains and strong winds caused by the approach of Typhoon Mindulle. \nIt was expected that Mindulle, a name provided by North Korea that means "dandelion," would affect the nation's weather on Thursday and Friday. \nThe maritime warning was issued at 5:30pm, when Mindulle was located about 600km southeast of the nation's southern tip. Forecasters said that Mindulle's speed had slowed to 10kph yesterday from 12kph on Sunday. The storm's structure remained sound and it has potential to cause a stronger typhoon, they said. \nResidents were warned to avoid high waves along the nation's eastern and southern shorelines today. \nAccording to Fred Tsai (蔡甫甸), a division chief at the bureau's Weather Forecast Center, the storm moved slowly, making it challenging to predict its route. \n"We can't rule out the possibility that it could go north after passing through the Bashi Channel. This scenario could cause destructive winds and damage in western Taiwan," Tsai said yesterday. \nTsai said the possible route resembles that of the devastating Typhoon Thelma in July 1977. Thelma landed in Kaohsiung, swept up to central Taiwan and left Taichung to cause more damage in China's Fujian Province. \nScientists for the National Science Council (NSC) said yesterday that the typhoon could hit western Taiwan. On Sunday and yesterday, NSC scientists flew around Mindulle twice to gather data such as air pressure, temperature, humidity and wind speed by dropping 32 dropsondes. \nA sonde is a device used to obtain information on atmospheric conditions that can be suspended from a balloon or parachute or propelled by a rocket. This was the scientists' first time flying on two consecutive days to explore a typhoon. \nLin Po-hsiung (林博雄), an atmospheric scientist at National Taiwan University, said yesterday that up-to-date information about the storm received by Global Positioning System (GPS) receivers can be sent to computers at the Central Weather Bureau. \n"In the past, information about the real weather situation at sea was unavailable. But because of our research project, a supply of key data is available now," Lin said. \nIn order to improve the accuracy of typhoon forecasting, the council launched a three-year research project at a cost of NT$90 million in 2002, focusing on dropsonde observation as the most important part of the typhoon surveillance project. \nNSC scientists said that the US' experience of flying synoptic surveillance missions around hurricanes suggests that these observations produce a 10 to 30 percent reduction in track-forecast errors involving hurricanes.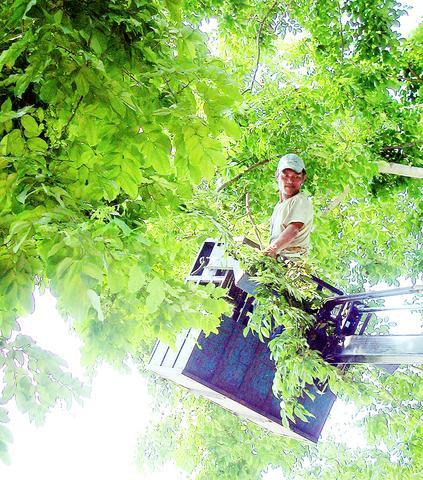 A Kaohsiung city worker prunes trees as part of typhoon safety preparations. Although Typhoon Mindulle was still several hundred kilometers southeast of Taiwan, its effects were seen on Monday in Taipei, where the usual smog was blown away.
PHOTO: CNA
Comments will be moderated. Keep comments relevant to the article. Remarks containing abusive and obscene language, personal attacks of any kind or promotion will be removed and the user banned. Final decision will be at the discretion of the Taipei Times.