Chang trades heaven for diplomacy
Joanne Chang (裘兆琳) says she felt her academic life was as happy as heaven would be. But the newly appointed deputy representative to the US is ready to give up the agreeable life of a researcher to face her new challenges.
Many were surprised when Minister of Foreign Affairs Mark Chen (陳唐山) announced to reporters during a hike on Yangmingshan two weeks ago that Chang would be the new deputy to top representative David Lee (李大維).
Chang, 52, a research fellow at the Academia Sinica's Institute of European and American Studies, obtained her doctorate from the University of Maryland in 1983 and was a guest scholar at the Brookings Institution in Washington in 1993 and 1994.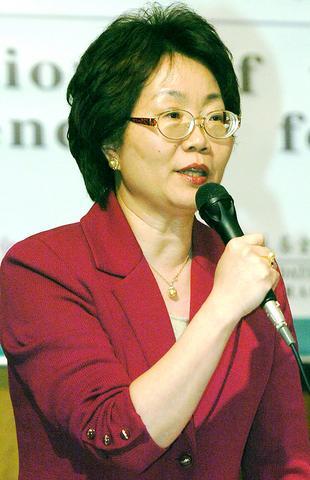 Academia Sinica research fellow Joanne Chang will be one of two deputies to top US representative David Lee.
TAIPEI TIMES FILE PHOTO
Chen cited Chang's eloquence and broad connections with US think tanks as some of the reasons the government selected her for the job.
The minister said Chang's performance as moderator of the Democratic Pacific Assembly (DPA) initiated by Vice President Annette Lu (呂秀蓮) last September was impressive. "That occasion allowed me to see how capable Chang is," he said.
Chen said Stanley Kao (高碩泰), WTO deputy permanent representative, would be Lee's other deputy.
Although the government previously chose a professional diplomat and a DPP member for the two deputy positions, Chang is not a Democratic Progressive Party (DPP) member.
Although Chang does not belong to the DPP, "her political orientation over the past two years has obviously tilted toward the green camp," said her long-time friend Edward Chen (陳一新), professor and director of Tamkang University's Graduate Institute of American Studies.
Chang has spoken to defend the government's policies on many occasions, so much so that even some of her friends wondered whether she has lost the neutral stance an academic like her is supposed to hold, Edward Chen said.
"Actually, I perceived her intention to side with the DPP as early as 1999," said the professor, who rejected Chang's invitation to help write the DPP's white paper for foreign policies.
Lai I-chung (賴怡忠), director of the Taiwan Thinktank's foreign policy studies, encountered Chang for the first time when he was director of the DPP's representative office in Washington from 1999 to 2000.
"I think Chang is a good choice to assume the deputy top representative to the US ? Working with her was a pleasant experience," Lai said.
When Taiwan-US relations plunged to a low point this January because of disagreements over Taiwan's referendum, Lai and Chang were both selected to be members of a Taiwanese delegation to the US to communicate on the issue.
Apart from her involvement in political activities, Chang is the author of United States-China Normalization: An Evaluation of Foreign Policy Decision Making (1986) and numerous articles on US foreign policy, US-China-Taiwan relations and China's international negotiating behavior.
Chang and Lee, her future boss, were classmates at National Taiwan University's political science department. "We have been good friends for many years," she said.
With dual citizenship, Chang has said she would give up her US citizenship before assuming her new job.
"My current life as an academic is very free. These are good days ? I feel almost like I'm in heaven. Therefore, it was very difficult for me to decide whether to accept the appointment," Chang said.
Chang currently is on vacation in the US, and is taking time to do some research at the University of Maryland. Commenting on the challenges ahead, she said she wishes her opinions could contribute a bit to Taiwan-US relations.
"But I hope my inexperience will not lead to any negative influence on my job," she said.
The most important task for Taiwan-US relations over the next six months is to repair both sides' mutual trust, Chang said.
"In the course of Taiwan's presidential election, the US has avoided getting involved in our domestic disputes. The US presidential election is coming in a few months. Our government should also keep a neutral stance on their election," she said.
Comments will be moderated. Keep comments relevant to the article. Remarks containing abusive and obscene language, personal attacks of any kind or promotion will be removed and the user banned. Final decision will be at the discretion of the Taipei Times.