Natural gas field found in Guantien
The Chinese Petroleum Corp (CPC) yesterday confirmed that a natural gas field in Guantien, Tainan County contains deposits amounting to some 400 million cubic meters of gas with a production value of NT$2.5 billion (US$74.47 million). \nCPC Vice Executive Director Lu Ming-ta (呂明達) said that Guantien, the hometown of President Chen Shui-bian (陳水扁), was known to have natural gas deposits from 1992, but the exact location of the field was pinpointed only last year. \nLu said that it is estimated that the first well sunk in the natural gas field will have a maximum production of 46,000m3 daily, and if calculated by two wells with a daily production of 60,000m3, the gas field could be productive for 20 years and create revenue of NT$2.5 billion. \nIf the development plan goes smoothly, the field in Guantien is expected to provide gas for Taiwan from 2010, raising the level of domestic supply of natural gas while cutting reliance on foreign imports. \nThe CPC rents the rice paddy where the field is located for NT$400,000 a year, Lu said, adding that the company will reimburse local people depending on the result of the gas field's exploitation. \nThe CPC is the only petroleum and natural gas prospector in Taiwan and has achieved a revenue of NT$150 billion over the past few decades. \nBuoyed by the gas-field find, CPC Chairman Kuo Chin-tsai (郭進財) said that the company will increase exploration, saying that it has appropriated a budget for this of NT$15 billion between 2002 and 2007. Of that amount, NT$5.5 billion is earmarked for land exploration, NT$1.9 billion for sea exploration and NT$7.6 billion for overseas exploration.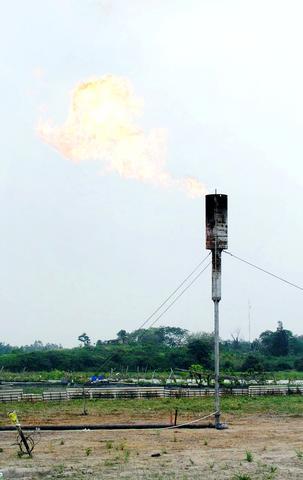 The state-owned Chinese Petroleum Corp (CPC) announced yesterday that the company's ``Guantien No. 1'' oil exploration well has found abundant natural gas reserves in Guantien Township in Tainan County.
PHOTO: YANG MEI-HUNG, TAIPEI TIMES
Comments will be moderated. Keep comments relevant to the article. Remarks containing abusive and obscene language, personal attacks of any kind or promotion will be removed and the user banned. Final decision will be at the discretion of the Taipei Times.