Former AIT chairwoman arrives to `visit friends'
Therese Shaheen, former chairwoman of the American Institute in Taiwan (AIT), arrived in Taipei yesterday for a four-day visit. During her stay she will meet several high-ranking government officials and will be decorated by President Chen Shui-bian (陳水扁). \nIn contrast to the AIT's very low-profile treatment of Shaheen's visit -- the institute has had no part in making arrangements for her visit and appears to be keeping its distance from her -- the Presidential Office has prepared to welcome Shaheen warmly in order to thank her for contributions to the Taiwan-US relationship during her 16 months as AIT chairwoman. \nShaheen, saying that her visit was simply a private trip during which she would visit old friends, yesterday said nothing controversial in response to media questions on sensitive topics -- such as whether her resignation from the AIT came about as a result of her sending a message to Chen congratulating him on his victory in the presidential election before Washington had sent its official congratulations. \n"There were lots of reasons [for my resignation], but it's not the right time or place to discuss them," Shaheen told reporters at CKS International Airport. \nShaheen said that she looks forward to spending more time with her daughter, while her husband works 16-hour days at the Pentagon. \nAsked about relations among Taiwan, the US and China, Shaheen said that the Legislative Yuan should approve a proposed purchase of weapons from the US in order to enhance the nation's ability to defend against the Chinese military threat. \nShe expressed optimism about the US-Taiwan relationship, saying that there will be a "fresh look" at things after the US presidential election in November. \nJoseph Wu (吳釗燮), chairman of the Mainland Affairs Council, and his predecessor Tsai Ing-wen (蔡英文), treated Shaheen to French cuisine last night. Wu, who as former deputy secretary-general to the president was responsible for arranging state visits by the president and vice president, presented Shaheen with a porcelain vase in gratitude for her warm reception of Chen during his stopover in New York last October. \nWu refused to disclose any additional details of the dinner, saying that it was a gathering of old friends. \nOfficials from the Ministry of Foreign Affairs have arranged for Shaheen to attend a luncheon with Chen and Vice President Annette Lu (呂秀蓮) at the Presidential Office tomorrow. Prior to the luncheon, Shaheen will be decorated by the president in honor of her friendship with Taiwan. \nVice Minister of Foreign Affairs Michael Kau (高英茂) -- on behalf of Minister of Foreign Affairs Mark Chen (陳唐山), who is attending a conference in the US -- will host a banquet for Shaheen tomorrow night. \nIt is widely believed in Taipei political circles that tensions exist between Shaheen and AIT director Douglas Paal, the US' de facto ambassador to Taiwan. It is also generally felt that the former chairwoman displayed a much more friendly attitude toward the Democratic Progressive Party government than does Paal. \nDespite the administration's warm welcome of Shaheen, the government is downplaying the significance of her trip. \n"So as not to embarrass the AIT and in order to follow correct diplomatic protocol regarding the current AIT chief, we are not going to discuss the details of Shaheen's trip," one government source said.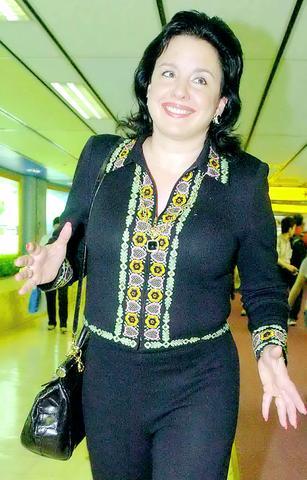 Therese Shaheen, former chairwoman of the American Institute in Taiwan, arrives at CKS International Airport yesterday for a four-day visit during which she will be decorated by President Chen Shui-bian.
PHOTO: CHU PEI-HSIUNG, TAIPEI TIMES
Comments will be moderated. Keep comments relevant to the article. Remarks containing abusive and obscene language, personal attacks of any kind or promotion will be removed and the user banned. Final decision will be at the discretion of the Taipei Times.