Taipei European School holds first Eurofest
NEW HOME The event was a fundraiser for the school's new Wenlin campus after the government decided to build a road through the current one
Strains of rock and folk music could be heard in Shihlin District yesterday as the Taipei European School (TES) kicked off its first Eurofest. \nThe festival at the school on Wenlin Road ran from 11am to 7pm, with students and community members enjoying live music and a variety of foods and drinks. \nEurofest 2004 was organized by the European Chamber of Commerce Taipei (ECCT), TES and International Community Radio Taipei (ICRT) to raise funds for the school's new Wenlin campus. \n"The school almost got shut down last year. The government was planning to build a road through the current Wenlin campus, so the school was unable to renew its lease," said Jim Boyce, ECCT director of communications. \nThanks to negotiations between government and school authorities, TES was promised a new home on land connected to its current campus. \nSchool representatives say that construction of the new campus will begin next January and will be a two-year process. In the meantime, TES students in the primary grades will continue to have classes at the old Wenlin Road school. \n"We had a couple of back-up plans, but we're extremely happy with the current arrangement," said the school's CEO, John Nixon. \nNixon said that the government realized that TES fills an important niche in Taiwan's educational environment for families moved here by European companies. \nTES parents at the festival explained the importance of the school to European workers and companies. \n"A key issue for Europeans working in Taiwan with families is school environment. Although a lot of that is the school itself, it also depends on government and community support. This event is good because it is an effort to build that support," said Reiner John, an Infineon employee from Germany with two teenagers in the school. \n"It is important for European companies in Taiwan to be able to tell their employees that they can send their children to a school with a European system," explained Maria, his wife and Infineon colleague. \nBesides raising funds, the festival also brings the local and international communities together and increases awareness of the school and its needs, Nixon said. \n"It's been fun to just listen to the music and eat. I don't feel like I know more about the European community or culture, though," said Chin-yi, a local college student who learned about the event in a newspaper.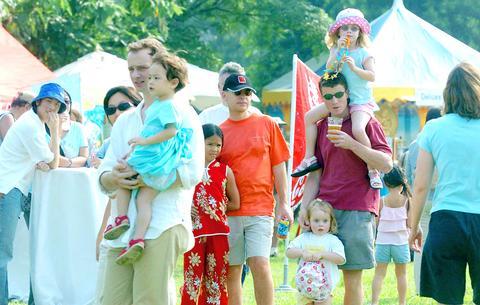 Members of Taipei's foreign community enjoy a family outing at the 2004 Eurofest organized by Taipei European School yesterday.
PHOTO: CHIANG YING-YING, TAIPEI TIMES
Comments will be moderated. Keep comments relevant to the article. Remarks containing abusive and obscene language, personal attacks of any kind or promotion will be removed and the user banned. Final decision will be at the discretion of the Taipei Times.