Chen causes commotion over gender
WOMEN'S DAY The DPP said Chen Shui-bian's remark about a female premier came as a surprise, while the blue camp said Wu Shu-chen should be handed the job
President Chen Shui-bian's (陳水扁) remark on Sunday that he is considering nominating a female premier caused a kerfuffle in political circles yesterday, with the pan-blue camp calling on the president to nominate his wife to the post. \nTo celebrate International Women's Day, Chen held a tea gathering with women's groups yesterday at the DPP's campaign headquarters, during which he vowed to create a realistic women's rights system, and pledged to nominate more female ministers if he wins a second term. \n"The significance of Women's Day is not just the right of political participation, but should be more concerned about women's basic rights, such as the prevention of domestic violence," Chen said. \nHe didn't elaborate on his comments on choosing a female premier. However, many DPP lawmakers had been asked by the media to comment and said they didn't think the president was serious about realizing the promise. \n"The promise about a female premier was a surprise. No aides had proposed such an idea to the president," said Lo Wen-chia (羅文嘉), the DPP legislator who arranged the gathering Sunday at which Chen made the remark. \n"President Chen was simply encouraging women participants at the gathering. The media should not over-interpret it," Lo said. \nThe DPP legislative caucus said Chen can easily carry out his promise because there are many talented women in the DPP. \n"Mainland Affairs Council Chairwoman Tsai Ing-wen (蔡英文), Council of Hakka Affairs Chairwoman Yeh Chu-lan (葉菊蘭) and Chen Chu (陳菊), chairwoman of the Council of Labor Affairs, are all possible candidates," DPP caucus leader Tsai Huang-liang (蔡煌瑯) said. \nMedia reports mentioned Nita Ing (殷琪), chairwoman of the Taiwan High Speed Railway Corp, as Chen's first choice due to Ing's long-term support of the DPP. \nPremier Yu Shyi-kun was asked by the media yesterday to comment on Chen's remark. \n"I think the significance of the president's comment is that a male candidate is not a priority and that the DPP will always abide by the principle of gender equality," Yu said. \nMeanwhile, the opposition alliance said Chen's administration had failed to protect women's rights during the past four years. \n"In the current DPP Cabinet, only 18 percent of the ministers are women, which has failed to meet Chen's promise of one-third of Cabinet officials being women," said Chinese Nationalist Party (KMT) Chairman Lien Chan (連戰). "How can the public trust Chen again just because he wants to nominate a female premier?" \nLien promised yesterday that one-quarter of any pan-blue Cabinet would be women. \nLegislative Speaker Wang Jin-pyng (王金平), considered a likely choice of premier should the KMT win the presidential election, said, "We won't let gender be a consideration when nominating the premier." \nAt a press conference yesterday, KMT and People First Party legislators suggested Chen appoint first lady Wu Shu-chen (吳淑珍) as premier. \n"Since the first lady can manipulate the arrangement of Cabinet appointments and dominate Chen's financial policy-making, we believe that Wu Shu-chen is the best choice to lead Chen's administration," KMT Legislator Huang Chao-shun (黃昭順) said.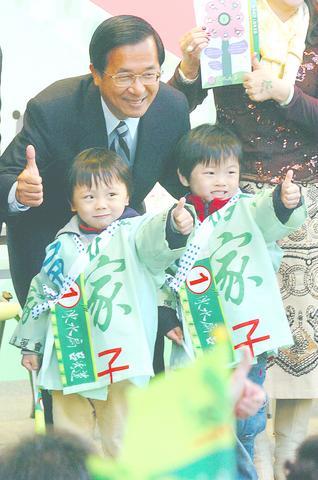 President Chen Shui-bian and two children give the thumbs-up at a campaign activity in Taipei City yesterday, urging the public to support Chen's re-election bid.
PHOTO: GEORGE TSORNG, TAIPEI TIMES
Comments will be moderated. Keep comments relevant to the article. Remarks containing abusive and obscene language, personal attacks of any kind or promotion will be removed and the user banned. Final decision will be at the discretion of the Taipei Times.