A sustainable future is crucial
LIVELIHOOD THREATENED Environmental groups say politicians should focus more on the environment and address issues that could lead to suffering for Taiwan's people
With the presidential election campaign in full swing, most environmentalists and community-based social activists wonder if any camp will be ensuring Taiwanese people's sustainable future. \nWhat triggered them to speak up about this issue was the political camps' performance in recent campaign activities. From television debates to political rallies, environmental and sustainable development issues have not been addressed. Some of the influential leaders of civic groups, however, were not surprised at all. \n"The presidential elections in most other countries focus on the people's livelihood. But unsolved problems about both national identity and the constitutional system hamper candidates' discussion on social justice-related problems, such as environmental protection and ecological preservation," said Sam Lin (林聖崇), head of the Ecology Conservation Alliance. \nIn terms of sustainable development, Lin said that both parties' candidates gave random answers to questions raised by environmental groups because political figures clearly know that economic development is a useful tool to please voters. \nTaking as an example the proposed construction of the 86km-long Suao-Hualien freeway, which costs NT$96.2 billion, Lin said that both camp compete with each other in terms of the project's efficiency. While the Democratic Progressive Party (DPP) launched the construction in December, assuring the project's completion in 2011, the pan-blue camp pledged to have the construction carried out and completed within eight years. \nProvidence University vice president Chen Yueh-fong (陳玉峰), a 52-year-old ecologist who won last year's Presidential Cultural Award, said that the Suao-Hualien freeway controversy demonstrates that old-fashioned thinking about unlimited economic growth remained a criteria used by not only political figures but also most civil servants. \n"It's a pity that the DPP made little effort in the past four years to establish an innovative civil service, whose inveteracy had been influenced by the former ruling party, the Chinese Nationalist Party (KMT)," Chen said. \nStubborn governmental officials resisting the DPP caused several major projects, which deserve to be reviewed in perspectives of global sustainable development, either to be suspended or carried out in environment-unfriendly ways, according to Chen. \nChen said that many construction projects carried out in central Taiwan after the devastating earthquake that claimed more than 2,400 lives on Sept. 21, 1999, were unnecessary. \n"Why do they insist on restoring collapsed tracts of land and connecting damaged roads again? Building big roads along the Central Cross-island Highway was already a mistake," Chen said. \nThe government's lack of respect for ecologists and their knowledge in planning land use was not news, but it was regrettable that the strength of the social movement in Taiwan's civil society had been weakened since the DPP came into power four years ago. \nAs the appearance of an environmental movement in Taiwan was one of the byproducts of the rising political counterforce (in the late 1970s and early 1980s), the first political turnaround in Taiwan's history in 2000 incorporated a few environmental reformers into the government sector, Chen said. \nAt present, Chen said, a collision with conservative forces four years ago resulted in no outstanding performance in terms of sustainable development. \n"But it is be hard to say that the situation will remain the same if reformers take the advice to revise their ways of doing things," Chen said. \nDisappointing \nAfter the DPP's victory in 2000, many environmentalists with close relationships with the party took positions in the government or became consultants to governmental officials on environmental protection. However, their performance seems to have disappointed independent activists. \nEric Liou (劉銘龍), secretary-general of the Environmental Quality Protection Foundation, argues that social pressure groups should remain independent in order to maintain their credibility. \n"Those who care about whether their actions are politically correct will be eventually questioned about their stance," Liou said. \nThe degradation of certain groups led to the scenario that environmental issues had not achieved a broader electoral appeal in Taiwan, Liou said. In addition, most political figures believe that environmental issues are irrelevant to the main electoral concern -- salvaging Taiwan's economy. \n"Since most criticisms of the ruling party's sustainable development strategies have been weakened, why do opposition parties have to raise related issues to extend the battle line?" Liou said. \nHowever, activists from some persistent non-governmental organizations believe that attacking the unsound planning of policies inside the government is one of the more efficient ways to deal with their issues. \n"Through this channel, we activists still watch over the government carefully," said chairwoman of the Homemakers' Union and Foundation, Mary Chen (陳曼麗). She is also one of the NGO representatives at the Executive Yuan's National Council for Sustainable Development. \nIn addition, senior members of the Taiwan Environmental Protection Union were also invited to offer their advice through serving as consultants to many governmental agencies. But most of them encountered conservative forces among civil servants, who are habitually in favor of old-fashioned ideas. \nOn March 1, Mary Chen and other anti-nuclear activists of the newly formed No Nukes Taiwan Union released an analysis of both camp's answers to a questionnaire about energy policies. \nThe result showed that the DPP is more in tune with global nuclear power trends than the KMT, which scorns renewable energy sources. However, Mary Chen said that activists are still worried about the DPP's answers because the party has turned around on some of its promises, such as the promise to scrap the Fourth Nuclear Power Plant. \nAt forums held last week by activists from diverse environmental community-based groups, a common view was that both camps in the presidential election only casually mentioned issues pertaining to sustainable development. \nLast week, the Society of Wilderness (SOW), Taiwan's largest NGO with about 8,000 members, urged both camps to produce an environmental white paper by March 10. These are necessary as a frame of reference for voters concerned about the environment. On March 10, activists from several environmental groups will examine both political groupings' environmental white papers. \n"In addition to the cross-strait dispute and economic issues, voters still have another angle which could decide their voting," SOW secretary-general Chang Hung-lin (張宏林) said. \nHealth problems \nChang estimates that more than 1 million voters suffer from health problems associated with environmental deterioration. In addition, residents unsatisfied with the establishment of not-in-my-backyard (or NIMBY) facilities, such as waste incinerators, garbage landfills or power plants, need to be prodded into action. \n"If you suffer from asthma, why do you vote for a party neglecting the prevention of air pollution?" Chang said. \nChang said that the DPP-led Central Government did something about sustainable development, such as strengthening the functions of the Executive Yuan's National Council for Sustainable Development. \nIn August, 2002, the council led governmental officials to participate in the UN World Summit on Sustainable Development in Johannesburg. In January last year, Chen designated the year as the First Year of Sustainable Development in Taiwan, revising certain polices to keep abreast of what is going on in other countries with the emphasis on sustainability. \nOn World Environment Day on June 5 last year, the council's executive-general and Minister without Portfolio Yeh Jiunn-rong (葉俊榮) for the first time announced a total of 42 "Taiwan Sustainable Development Core Indicators" in six categories. \nChang said that activists would like to have both political camps sustain their future strategies ensuring Taiwan's future. \nHe said that an environmental awakening movement would be promoted by the society, beginning this week, and the campaign would continue till the end of the year when the legislative election is held.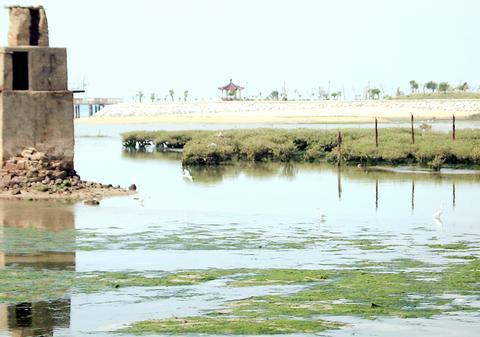 The wetlands along Kinmen's shore have not been designated as preservation areas.
PHOTO: CHIU YU-TZU, TAIPEI TIMES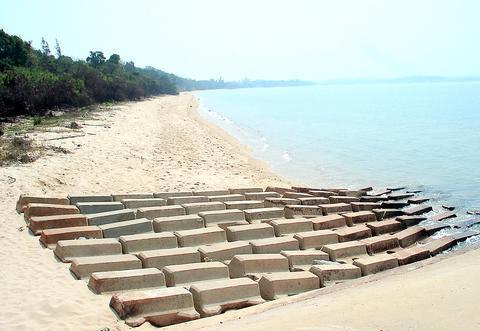 Cement blocks placed on the shore to function as a breakwater are slowly eating away Kinmen's beautiful beaches.
PHOTO: CHIU YU-TZU, TAIPEI TIMES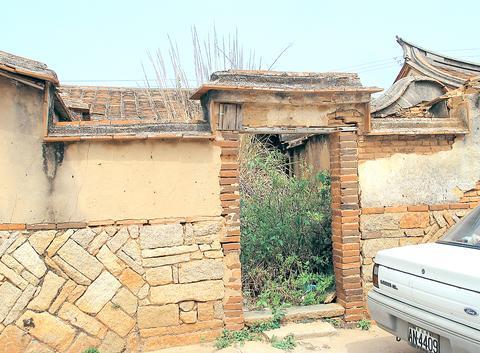 Weeds grow tall in an old stone house which has fallen into disrepair.
PHOTO: CHIU YU-TZU, TAIPEI TIMES
Comments will be moderated. Keep comments relevant to the article. Remarks containing abusive and obscene language, personal attacks of any kind or promotion will be removed and the user banned. Final decision will be at the discretion of the Taipei Times.