Chen a `big mouth' for leaking secrets: Lien
Chinese Nationalist Party (KMT) Chairman Lien Chan (連戰) yesterday branded President Chen Shui-bian (陳水扁) a "big mouth" who had endangered the lives of Taiwanese intelligence agents working undercover for political gain. \nCiting a report in the Hong Kong-based Ming Pao on Monday that said 21 Taiwanese spies had been arrested by China following remarks by Chen that pinpointed the number of missiles in China that were aimed at Taiwan, Lien said the president was an "incompetent commander-in-chief whose actions could jeopardize the lives of the nation's armed forces." \n"[We] don't know where Taiwan will go if Taiwan continues to be under Chen's leadership," said Lien, who will face off against Chen in March's presidential election. \n"Given the sensitivity of defense work, and that the rights of China-based Taiwanese businesspeople ought not to be neglected, I wish that President Chen would be more cautious and discreet with his comments," said Lien while meeting with supporters in Taipei County. \n"It is incredible that because of concern over his own election campaign, Chen is going as far as to leak confidential information, even when that means putting the lives of our undercover agents in danger," Lien said. \nThe Presidential Office denied the report on Monday, saying the story was intended to deal a blow to Chen. \nDespite government denial of the report, Lien yesterday urged Chen to hand all details concerning the matter and attach top priority to saving the agents. \nMeanwhile, Chang Rong-kung (張榮恭), head of the KMT's mainland affairs department, yesterday rebutted accusations by Democratic Progressive Party (DPP) Legislator Lee Wen-chung (李文忠) that Chang was working as a secret cross-strait emissary for Lien. \nChang said his frequent trips to China were to meet with China-based Taiwanese businesspeople and that he had not met with any Chinese officials. \n"If necessary, I am willing to call up these Taiwanese businesspeople in China to come forth and prove my innocence," Chang said. "However, if that's what I have to do, then I would also demand a public apology from Lee for his false accusations against me."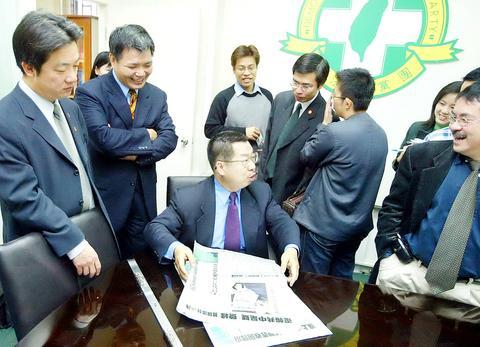 Some DPP legislators yesterday express their doubts at the Legislative Yuan on the media's reports about China's crackdown on a Taiwanese spy ring. A total of 21 Taiwanese and 15 Chinese were allegedly arrested in the spy case.
PHOTO: WANG YI-SUNG, TAIPEI TIMES
Comments will be moderated. Keep comments relevant to the article. Remarks containing abusive and obscene language, personal attacks of any kind or promotion will be removed and the user banned. Final decision will be at the discretion of the Taipei Times.