Big fines planned for badly sorted leftovers
As part of a continuing environmental drive, it will become illegal to mix different recyclable left-overs at fast-food restaurants nationwide, starting next year.
Chang Juu-en (張祖恩), Minister of the Environmental Protection Administration (EPA), said yesterday that store owners will face heavy fines for improperly sorted garbage.
"Do not order more than you can eat," is the essence of this approach to fast-food recycling, he said at a press conference.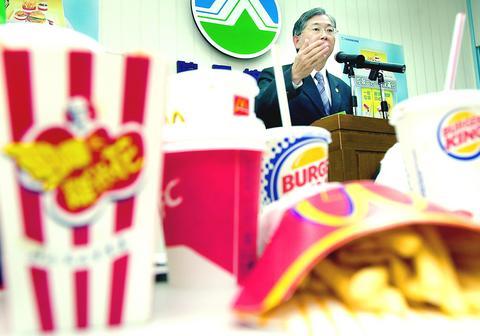 Minister of the Environmental Protection Administration Chang Juu-en promotes the new recycling policy for fast-food restaurants during a press conference yesterday. The policy will take effect next year.
PHOTO: LO PEI-TE, TAIPEI TIMES
Chang said he wanted to prevent food going to waste and also simplify the procedure consumers go through after finishing a meal at a fast-food restaurant.
On July 1 the EPA launched a trial recycling program at 600 fast-food restaurants belonging to seven major chains nationwide. Instead of the usual overflowing trash can, consumers can dispose of their waste in four different bins. Leftovers are separated into four categories: leftovers, recyclable materials, regular waste and liquid waste.
From Jan. 1 the owners of these 600 stores will face the real challenge -- passing comprehensive inspections to check if their garbage has been properly separated.
According to Yu Yung-chih (尤泳智), executive secretary of the EPA's Recycling Management Foundation, mixing waste from different categories could result in the restaurant being fined from NT$60,000 to NT$300,000.
The program hopes to recycle 3,000 tonnes of paper tableware and 2,000 tonnes of leftover food annually. Paper tableware will be sent to three paper factories for pulping and leftovers will be used to produce fertilizers or pig feed.
At yesterday's press conference, Chang demonstrated how to separate and classify the different kinds of waste, including leftovers, ice cubes, unfinished drinks, paper containers and dirty napkins.
Chang said that 400 million people visit fast-food chain stores every year. The EPA wants to focus its environmental education program on these people.
Tips on how to recycle will be placed on each table at the 600 participating stores. A TV commercial will be run nationwide to teach the public how to apply principles of recycling in their daily life.
The recycling drive is part of a follow-up to the EPA's campaign to limit the use of plastic bags and disposable tableware at certain restaurants and stores.
Chang said yesterday that the EPA intends to carry out the program thoroughly, but the Legislative Yuan is currently revising the Waste Disposal Act, and changes to the law might lead to revisions in the recycling policy.
Comments will be moderated. Keep comments relevant to the article. Remarks containing abusive and obscene language, personal attacks of any kind or promotion will be removed and the user banned. Final decision will be at the discretion of the Taipei Times.