Disabled say job programs don't work
INSECURE Schemes that offer jobs for just nine months at a time fail to give physically and mentally handicapped workers crucial stability, a cerebral palsy sufferer said
Despite new government training programs, physically and mentally disadvantaged people are still finding it hard to get a job.
King Yang (楊景智) suffers from cerebral palsy and walks with the aid of crutches. However, Yang's gift for graphic design has seen him work as a freelance designer for more than 10 years.
On Nov. 24, Yang left his home in Pingtung after being offered a job at the Victory Home Work Shelter (慈泰庇護工場) in Taipei County under the Council of Labor Affairs's Well-Rounded Job Training Program. The shelter helped him find a place to stay and suitable transport to commute to work.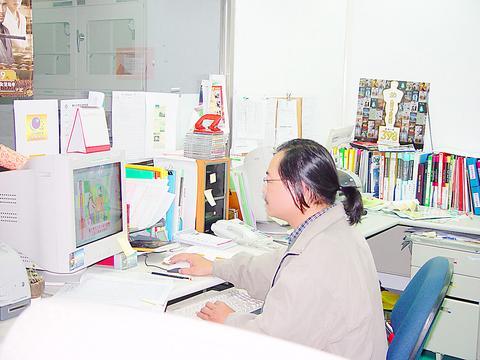 King Yang, who suffers from cerebral palsy, sits at his computer in his government-sponsered work placement.
PHOTO: COURTESY OF VICTORY HOME
"Accessibility is the key when a physically disabled individual is looking for a job," Yang said. "If we can't get to work, we are not able to do our job."
Yang said, however, that it was unfortunate that each job within the council's program only lasts for nine months.
"That means we, the physically disabled, have to find a different place to work and stay every nine months, which is a difficult thing to do," Yang said.
Yang is currently working on various multimedia projects. He designs posters and promotional flyers for various governmental projects and activities, as well as for private companies.
"Here at the shelter, we also edit wedding video footage and convert it into VCD or DVD format," Yang said. "In addition, we also help companies with their presentations; anything that deals with multimedia."
Three other physically disabled graphic designers work at the shelter and all have prior experiences in the field.
"Although we are part of a government-sponsored program, we do not get special treatment," Yang said. "For instance, occasionally there are large-scale multimedia projects available at the Taipei County Government. We still have to bid against other multimedia provided for these projects. These projects don't just fall into our laps."
Under the council program, Yang and his co-workers are able to work up to 22 days per month and get paid NT$90 an hour.
"Getting this job can only help one to get through a transitional period as no stability is guaranteed," Yang said. "That's a significant flaw in this program, as it only last for nine months."
Yang also said that the importance of a hindrance-free work environment for the physically disabled was an important factor.
"Each time we find a new job, we have to worry about accessibility," Yang said. "For instance, if there is public transport available to take us to work or if there is enough room for a wheelchair to move about."
Not only was the council's program short, it had many structural problems as well, Yang said.
"The job training program does not make a distinction between projects which are designed to provide training for the disabled and those for individuals who already have skills but need resources to find jobs," Yang said.
"For instance, in this multimedia project we have here, both individuals with or without prior professional experience can apply for work in this project," Yang said. "However, applicants still have to face competition and those without experience are often weeded out."
Yang also said that even if inexperienced people are hired to perform a particular job, they may still get the boot if they do not meet expectations.
"If the council can offer two programs to separate those who do not have skills and need to be trained, and those who are skilled and only need job opportunities, many issues could be resolved," Yang said.
Yang felt that the many crash courses provided by labor departments create only short-term benefits and do not go to the root of the problem as to why many disabled individuals have such a hard time getting jobs.
"Many of the job-training courses only last for a couple of months, where the students can pick up some basic technical skills," Yang said. "At the end of the training, the students will each get a certificate. Frankly, however, these certificates do not help at all in job searches. Employees won't hire people based on these certificates. What is more important is job experience."
Yang offered some suggestions on ways the job programs could be improved.
"At the end of job-training programs, local government job centers should help students to get internships," Yang said. "Having practical experience will help students to find jobs much more easily."
In addition, Yang believed that that having a job-skill database will be helpful as well.
"The CLA can set up a database to store the skills and the needs of the disabled," he said.
"Let's say if there is a multimedia projects that needs new hires, council personnel can easily look up the database to see which individuals already have the necessary skills." Yang said.
After nine months, if Yang wishes to stay at his current job, he will need to reapply for a different position.
"It is a rule that the same person cannot do the same job continuously. The opportunity should be given to others," Yang said.
"This job-training program should be to encourage the disabled to explore different opportunities. Although this program is well-intended, many of us can be discouraged by the instability resulting from working under this program," Yang said.
Comments will be moderated. Keep comments relevant to the article. Remarks containing abusive and obscene language, personal attacks of any kind or promotion will be removed and the user banned. Final decision will be at the discretion of the Taipei Times.