Being on the right side of history
TO MARK INTERNATIONAL HUMAN RIGHTS DAY ON WEDNESDAY, THE TAIWAN To mark International Human Rights Day on Wednesday, the Taiwan foundation for Democracy is hosting its first conference, entitled 'A journey of Remembrance and Appreciaton,' today and tomorrow. Conference guests include James Seymour, an Amnesty International delegate to Taiwan during the Meili-Tau(Kaohsiung) Incident. Seymour spoke with 'Taipei Times' staff reporter Stephaine Wen about how far Taiwan has come on respecting human rights
Taipei Times: How did you become involved in the human rights movement in Taiwan?
James Seymour: I came here to study in 1961, then I left and I actually did not come back until 1975. Then Amnesty International sent me as a delegate to appeal to the government to release political prisoners. This was at the time of Chiang Kai-shek's (蔣介石) death. A hundred days after his death there would be a jiangxing [(減刑), commutation]. I was asked to ask the government to include the political prisoners in the commutation. And then a second time the same year, I was sent back by Amnesty International to attend the trial of Hsieh Tsung-min (謝聰敏) and some other people. Actually I did not get into the trial so I decided I might as well do something with my time.
I went around and met the young tang wai [(黨外), outside the party] people. They were not famous. But they became famous at the Mei-li Tau Incident. They are now in government.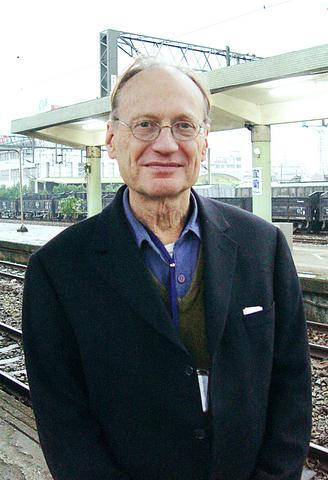 James Seymour, an Amnesty International delegate to Taiwan during the Meili-Tau Incident, says the nation has made progress on human rights, but that there are still problems in the judiciary.
PHOTO COURTESY OF THE TAIWAN FOUNDATION FOR DEMOCRACY
TT: Were you in Taiwan during the Mei-li Tau Incident?
Seymour: I was not here during the Mei-li Tau Incident. I was here in 1977. I came back after the incident and visited the relatives of [human-rights activists]. Then the government had enough of me, I was blacklisted after that.
TT: How do you think Taiwan has changed since then in terms of the human-rights movement?
Seymour: Well, of course it's very gratifying that Taiwan is now a place where human rights are respected. And those of us who were involved in human rights, our purpose was not to support this party or that party. But just to enable the people of Taiwan to make their own choices. Whatever they choose is not our business.
TT: So you are looking at it from a humanitarian perspective rather than a political perspective. The chairman of the Taiwan Foundation for Democracy (臺灣民主基金會), Wang Jin-pyng (王金平), is a Chinese Nationalist Party (KMT) member of the Legislative Yuan, and representatives from different political parties are also involved in the foundation. Does this indicate that the foundation is, as it claims, non-partisan?
Seymour: Right. Yes, that's very important to me. Our purpose is not to support the Democratic Progressive Party (DPP). Our purpose is to support democracy in Taiwan. Democracy is in pretty good shape. We are very happy about that.
TT: You think so?
Seymour: Well, I know there are some problems. I've been focusing on China, so I am not up to speed about the situation in Taiwan. But my impression is that the judiciary still has some problems, the court system, some of these trials like Chang Chan-hong (張燦鍙). He returned from exile and became the mayor of Tainan. Of course [Taiwan has] always been a very corrupt place. The prosecutor decided to go for Chang. So far as I know they did not accuse him of any personal gain and I don't know if they have been able to prove that he did anything. But if he did anything it was more negligence than criminal intent. And the latest word is up to seven years' sentence.
So these young prosecutors are tai-li-hai [(太厲害), too smart] sometimes. And the judges are kind of weak. The judges should really make sure that justice is done. There are other cases too. So probably there are some reforms needed in the judiciary. But as far as free press is concerned, it's OK. There are no political prisoners, and people speak through free elections. So that's basically what we want.
TT: How do you think Taiwan compares with other countries in terms of the human-rights movement?
Seymour: Of course this is the world trend. I think the system here is in much better shape than the Russian system. Certainly it is pretty bad in Burma [Myanmar]. The situation here is much better than in Hong Kong, Vietnam. So Taiwan is really up there with the truly democratic countries.
Comments will be moderated. Keep comments relevant to the article. Remarks containing abusive and obscene language, personal attacks of any kind or promotion will be removed and the user banned. Final decision will be at the discretion of the Taipei Times.