Iruan's uncle asks Annette Lu's help to keep him here
The uncle of Iruan Ergui Wu (吳憶樺), the Taiwanese-Brazilian boy at the center of a custody battle, yesterday asked Vice President Annette Lu (呂秀蓮) for her help in keeping Iruan in Taiwan.
After the Supreme Court last week upheld the verdict by the Taiwan High Court's Kaohsiung branch that Iruan must return to the guardianship of his Brazilian grandmother, Rosa Ergui, his Brazilian family started preparing to welcome him home at the end of the month.
While visiting the boy at a coffee shop in Kaohsiung City, Lu said that, although the court's decision should be respected, Iruan's own will and decisions should also receive serious consideration.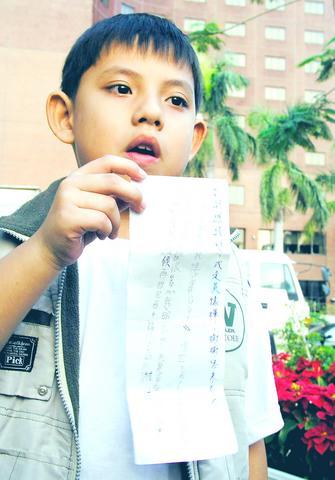 Iruan Ergui Wu yesterday presented a letter in his own handwriting to Vice President Annette Lu. The letter reads: ``Dear Vice President Lu. It's Ergui Wu. Thank you for visiting me. Please help me stay in Taiwan. I don't want to go back to Brazil. I am doing fine in Taiwan. Everybody cares about me and loves me. I want to stay here and will go back to Brazil when I grow up. Please help me. Thank you.''
PHOTO: LIBERTY TIMES
Wu told the vice president that all the members of his family hoped Iruan could stay in Taiwan and that she is the family's only hope at the moment.
Lu yesterday took some time to chat with Iruan. She asked him whether he still remembered his Brazilian grandmother's name. Iruan replied: "I cannot remember."
"I do not want to go back to Brazil. Right now I just want to find a place to hide myself so nobody will find me and send me away from my family and my friends," Iruan told the vice president.
"Children are also human beings. They also have the right to speak out," Lu said.
"As far as I am concerned, Iruan has been upset ever since he learned he would have to go back to Brazil. So we should seriously consider how he really feels and whether he is really willing to go back to Brazil," she said.
Lu said the court's ruling that Iruan's Brazilian grandmother is his legal guardian was totally logical and reasonable, but that the court did not consider asking Iruan whether he wants to stay in Taiwan or go back to his Brazilian home.
In the meantime, the vice president said, Iruan's case should not get in the way of diplomatic relations between Taiwan and Brazil, and that this case should be handled very carefully.
Comments will be moderated. Keep comments relevant to the article. Remarks containing abusive and obscene language, personal attacks of any kind or promotion will be removed and the user banned. Final decision will be at the discretion of the Taipei Times.