Chinese, Western medical practicioners can't agree
DRUGS Practitioners of Western-style medicine say that Chinese drugs have not been scientifically tested but their Chinese counterparts say they don't understand
Recent clashes between practitioners of Chinese and Western medicine have once again rekindled the usually dormant animosity that marks the uneasy coexistence of the two medical systems.
At the center of the debate is a figure whose personal story exemplifies the medical tug of war that has become increasingly heated since the ban on aristolochic acid, an herbal drug commonly used in Chinese medicine, on Nov 4.
Wang Yun-kai (王韻凱), a doctor of Chinese medicine, explained that ten months on a Chinese drug containing gentianae radix and aristolochic acid had left him dependent on kidney dialysis.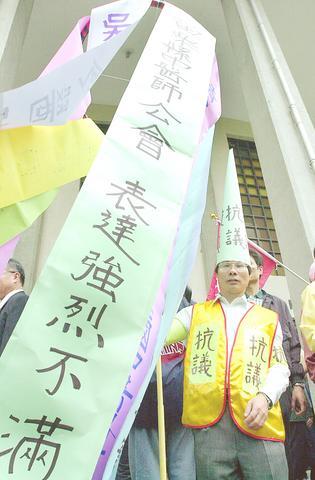 Practitioners of traditional Chinese medicine stage a demonstration in front of the Veterans General Hospital in Taipei to protest against a paper written by Wu Ming-ling, a toxicologist from the hospital, regarding damage done to the liver by some Chinese herbs. Research done by the hospital has led the Department of Health to ban a number of herbs.
PHOTO: GEORGE TSORNG, TAIPEI TIMES
"I began taking the drug in October of 2001 because I was always tired, and I realized that the aristolochic acid in the drug had damaged my kidneys by July of 2002," Wang stated.
When Wang gave voice to his personal experience at a Veterans' General Hospital workshop on herbal poisoning, he received both applause and accusations.
Doctors representing the National Chinese Medicine Association accused him of inaccurately portraying the effects of aristolochic acid, while others welcomed Wang's support in the effort to ban the acid.
Firestorm
Wang's testimony, along with the ban on aristolochic acid, sparked a chain of subsequent attacks on both Chinese and Western medicine in the following week, culminating with Veterans' General Hospital doctor Wu Ming-ling (吳明玲) and deputy director Le Yung-yao (雷永耀) apologizing for publicly stating that several Chinese drugs caused liver damage.
The said events highlight the politics that move beneath the surface of medical treatment. "Western medicine has a history of about 200 years, which is a small slice of Chinese medical history," Wang said, "Nevertheless, Western medicine more or less dominates the field."
Cheng Ping-sheng (鄭炳昇), president of the Kaohsiung Chinese Medicine Association, also expressed his frustration with Wu. "Western-medicine doctors do not understand Chinese medicine and should therefore stay out of it. Their reports only mislead people," Cheng declared.
Deng Jou-fan (鄧昭芳), executive director of the Foundation for Poison Control, however, protested that when Chinese drugs lead to incidents of poisoning, a patient's health usually wound up in the care of Western-medicine doctors.
"They do not want doctors of Western medicine to research Chinese drugs, but when the use of Chinese medicine leads to an emergency situation, patients come to us," Deng protested.
Commenting on the two different points of view, Chairman of the Department of Health's (DOH) Committee on Chinese Medicine and Pharmacy Lin I-hsin (林宜信) explained that the clash stems from vastly different fundamental theories on treatment and that the benefit of a drug depends on its role in treatment.
Holistic approach
"Chinese medicine is often accused of being unscientific because it does not offer numerical evidence," Lin acknowledged.
"However, the fundamental theory behind Chinese medicine is that the human body is like a small universe in and of itself, and treatment therefore focuses on the whole. Western medicine on the other hand was established under the microscope, and generally focuses on the individual parts that make up the whole," Lin said.
"As a result, the nature of the drugs used by Chinese and Western-medicine practitioners is also quite dissimilar. While Western drugs generally only have one primary chemical component, Chinese drugs are usually a combination of several different substances, underscoring a holistic approach to treatment," Lin said.
Lin touched on one of the key points raised by Chinese-medicine practitioners in response to charges that Chinese drugs are unsafe -- does the Western scientific method used to determine the harmful effects of a Chinese drug take into account how Chinese medicine is practiced?
"All medicine is poisonous to some degree. It is how the medicine is used that determines its benefit," Wang emphasized.
Chen Yi-tai (陳易泰) of the National Chinese Medicine Association echoed Wang. "The DOH is holding double standards. All Western drugs also have negative side effects, but they have not been banned," Chen said.
`Unscientific'
As expected, Western medicine doctors disagreed. According to Deng, it is the responsibility of the Chinese-medicine doctors to clearly lay out how a drug should be used, for how long, and the possible side effects. "Chinese medicine needs to become more scientific if it is to be safe," he said.
The accusation of being unscientific is ironically the same complaint that Chinese-medicine doctors have raised against Western-medicine doctors. Wu's blanket statement that Chinese drugs can lead to liver damage was disputed by the National Union Association of Chinese Medical Doctors specifically because they felt it was not an evidence-based, thoroughly scientific conclusion.
Wu and other Western-medicine doctors were accused of prematurely calling Chinese drugs unsafe before enough bedside diagnostic tests had been performed, unfairly tarnishing Chinese medicine.
However, there are also commercial motives involved, fueling the race to be more scientific. "The reason why Western medicine has the upper hand in the playing field is simply because there are more Western pharmaceutical companies. A lot of times doctors are merely dispensers of medicine," Wang said.
Deng also admitted that science sells, explaining that consumers would be unwilling to use Chinese medicine if it remained unable to develop an appropriate technology of medicinal management. "Before Western drugs are sold, there is a standard process for determining appropriate usage. The drugs are clearly labeled so that consumers know what they are getting. Chinese drugs will be unacceptable in today's society if they cannot cater to the needs of consumers," said Deng.
Government role is important
Meanwhile, it becomes clear that the government's management of Chinese drugs is crucial to both the pressure to become more scientific and the commercial incentives that underlie it.
"The DOH's control of Chinese drugs is too loose. They do not want to upset Good Manufacturing Practice (GMP) certified companies, but we need stricter management," Wang said.
According to Lin, the DOH established a medical center in Chang Gung Memorial hospita in 2001 to monitor Chinese medicine. "The center brings together Chinese-medicine doctors, pharmacognosy experts, epidemiologists, and poison control experts in an effort to build an organized database of information on Chinese drug poisoning," Lin said.
Lin concluded that Chinese and Western medicine both have advantages and disadvantages, pointing out that both are covered by the National Health Insurance; patients should choose appropriate treatment methods depending on their illness.
Comments will be moderated. Keep comments relevant to the article. Remarks containing abusive and obscene language, personal attacks of any kind or promotion will be removed and the user banned. Final decision will be at the discretion of the Taipei Times.