DPP organizing support associations to bolster Chen's re-election campaign
With less than one month before his official nomination as the Democratic Progressive Party's (DPP) presidential candidate, President Chen Shui-bian (陳水扁) has been busy establishing supporters' associations nationwide to reinforce increasing public support showcased by recent polls.
Since his return from a trip to the US and Panama earlier this month, Chen has inaugurated two supporters' associations: one in Taipei County on Nov. 9 and the other in Taitung County yesterday.
In the following weeks, he is scheduled to inaugurate more such groups, including one in Hualien County on Wednesday, two in Kaohsiung City and Changhua County next Sunday, another in Pingtung County on Nov. 30 and a Hakka supporters' organization in Hsinchu County on Dec. 7.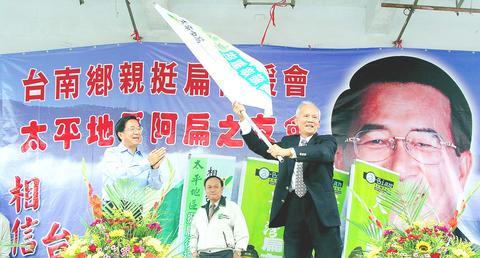 Lee Jen-kui, right, chairman of Tainan's support association for President Chen Shui-bian, left, waves a flag that Chen had just given to him at a campaign rally yesterday in Taitung.
PHOTO: CHANG TSUN-WEI, TAIPEI TIMES
Approximately 2,100 such supporters' groups are being set up nationwide. The planning of large-scale campaign rallies is also underway, including a massive one on Dec. 7 at the Yimin Temple in Hsinchu County to solicit support from Hakka communities.
The Yimin Temple, the center of the Hakka's religious beliefs, honors the spirits of Hakka warriors who sacrificed lives during wars with local bandits in the days of the Qing Dynasty.
Winning the support of the Hakka is considered crucial to Chen's reelection bid. The Hakka have only given tepid support to the DPP, which has been keenly trying to reverse this situation through a variety of ways since Chen took office in 2000, including promoting Hakka culture.
Speculation within the DPP that Council for Hakka Affairs Chairwoman Yeh Chu-lan (葉菊蘭) might be a strong candidate to be Chen's running mate was seen as a bid to boost Chen within Hakka communities.
The DPP has arranged big rallies in predominately Hakka areas, including one in Miaoli County tonight and the Yimin Temple ceremony, prior to Chen's nomination on Dec. 10 by its Central Executive Committee.
On Dec. 13, at the DPP's national congress, Chen is scheduled to announce his running mate. He will return to his hometown in Tainan County the following day to make his election mission pledge.
Eva Hsieh (謝欣霓), deputy director of DPP's Department of Social Development said the formation of the party's supporters' groups differ from those of the Chinese Nationalist Party (KMT) in that they are formed spontaneously as opposed to the KMT's use of "vote captains" to organize support.
"The DPP is known for its strong ability to organize huge campaign rallies to appeal to supporters. We are very proud of this strength," Hsieh said yesterday.
Another striking difference from the KMT's grassroots campaigners is that the DPP does not have huge budgets for fancy packaging, Hsieh said
"The DPP makes use of the smallest budgets in those undertakings," she said.
Hsieh said, the DPP has gradually consolidated its local campaigners' network, which will focus on making household visits door-to-door to solicit support.
Comments will be moderated. Keep comments relevant to the article. Remarks containing abusive and obscene language, personal attacks of any kind or promotion will be removed and the user banned. Final decision will be at the discretion of the Taipei Times.