Eel exports to Japan suspended
TEMPORARY MEASURE The action comes after Japanese customs discovered unusual levels of antibiotics in a recent batch of eels from Taiwan
A recent antibiotic contamination of Taiwanese eels exported to Japan prompted the Council of Agriculture yesterday to suspend eel exports for at least three weeks. \nLast Friday, Japanese inspectors in Okinawa found excessive levels of sulfanilamide in a 600kg live batch of eels that had arrived from Taiwan. On Tuesday, Japan launched a full examination of all eels, alive and processed, from Taiwan. Normally, Japanese customs only check 5 percent of Taiwanese eels. \nIn the 1970s, Japan imported US$200 million worth of eels, accounting for more than 2 percent of all trade between the two nations. Currently, Japan consumes 30,000 tonnes of eels a year worth NT$6.8 billion. \nIn response to Japanese fears, the council's Fisheries Agency yesterday asked eel suppliers to suspend exports for at least three weeks. The agency also ordered eel merchants to inspect goods for contamination \nThe agency's deputy chief, Hsieh Da-wen (謝大文), said the agency would fund eel checks to ensure quality. \n"We will soon come up with a mechanism in order to further ensure the quality of eels," Hsieh said. \nOfficials said that a minority of processors had smuggled eels from China and exported them to Japan under the name of Taiwan. \nAccording to Shih Sheng-lung (石聖龍), deputy director of the agency's department of aquaculture and coastal fisheries, China began exporting low-priced processed eels to Japan a decade ago. \nJapan in recent years began carrying out stricter examinations of Chinese eels, shrinking the Chinese market share. \nMeanwhile, officials said that in the era of globalization, producers, merchants and exporters in the seafood industry should work together to ensure the quality of products and make the industry sustainable. \nLocal prices of fish and shrimp have fallen sharply in the past month after the EU rejected 30 tonnes of seafood exported from Taiwan because of excessive levels of antibiotics. \nThe Department of Health yesterday called on the public not to panic. \n"Consumption of an excessive amount of sulfur drugs will harm the thyroid gland and the kidneys," said Yu Wan-neng (余萬能), deputy director general of the Bureau of Pharmaceutical Affairs. \nHowever, Yu stressed that according to the standards set by the Codex Alimentarius Commission, an international health standards organization, 0.05 parts per million of sulfur drugs is within the parameters of safe usage. \n"In other words, assuming each eel contains 0.1ppm of sulfur drugs, then a person weighing 60kg would have to consume around 30kg of eel for the amount of sulfur to be dangerous to one's health. This is an administrative problem, not a health hazard," Yu said. \n additional reporting by Joy Su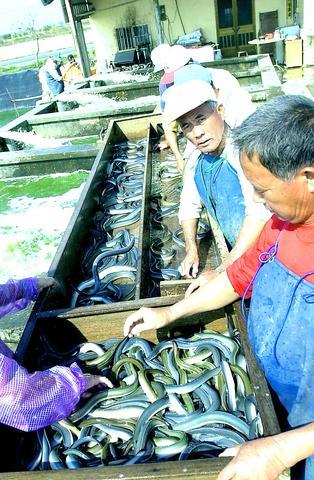 Fishermen handle freshly caught eel yesterday as the Council of Agriculture announced a three-week suspension of eel exports to Japan, due to the discovery of excessive levels of sulfanilamide in a live batch of eels in Japan.
PHOTO: HSIEH YIN-CHUNG, TAIPEI TIMES
Comments will be moderated. Keep comments relevant to the article. Remarks containing abusive and obscene language, personal attacks of any kind or promotion will be removed and the user banned. Final decision will be at the discretion of the Taipei Times.