TSU says Soong protecting sister-in-law
A Taiwan Solidarity Union (TSU) lawmaker yesterday asked People First Party (PFP) Chairman James Soong (宋楚瑜) yesterday to explain the whereabouts of his sister-in-law, an important figure in the Chung Hsing Bills Finance (興票案) scandal.
"Soong should account for the whereabouts of Chen Pi-yun (陳碧雲), his sister-in-law, who played a significant role in the Chung Hsing Bills Finance scandal," TSU whip Chien Lin Whei-jun (錢林慧君) said at a press conference.
As Soong's financial adviser, Chen is suspected of laundering some of Soong's illegal gains when she was an assistant manager at Chung Hsing Bills Finance, Chien Lin said.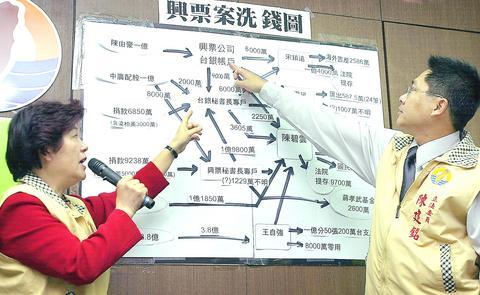 TSU legislators Chien Lin Hui-chun, left, and Chen Chien-ming, right, explain a chart purporting to show how PFP Chairman James Soong's sister-in-law, Chen Pei-yun, laundered more than NT$700 million in the Chung Hsing Bills Finance scandal. The legislators say Soong should urge his sister-in-law to cooprate with prosecutors.
PHOTO: LIAO CHENG-HUEI, TAIPEI TIMES
"Chen was suspected of laundering more than NT$700 million of money for Soong by remitting the money to fake accounts and overseas foundations," she said.
A key figure and witness in the scandal, Chen disappeared after her retirement from the company and she has not responded to summonses, according to Chien Lin.
The TSU whip said former president Lee Teng-hui (李登輝) has cooperated with prosecutors, despite his privileged position, and that Soong should urge his sister-in-law to tell the authorities the truth.
"As long as Soong was without sin, she should be bold and reveal the truth to the court," Chien Lin said.
But PFP Legislator Chou Hsi-wei (周錫瑋) defended the party chairman, disputing Chien Lin's charge that Soong has a duty to explain the whereabouts of his sister-in-law.
Chou said Chen has the freedom to stay abroad.
"She is the one responsible for her decision to avoid the summons," Chou said.
Chou said the scandal was old news and questioned Chien Lin's source about Chen's absence from earlier summons.
"The investigation authorities will get into trouble if they are determined to be the TSU lawmaker's source since the disclosure violates investigation rules," Chou warned.
He said that if the investigation authorities were not the source, "it must be someone's political manipulation, spreading news to attack Soong."
Soong's defeat in the 2000 presidential election was widely seen as a result of the Chung Hsing Bills scandal.
Chou said Lee's comments to prosecutors about the scandal offered nothing new.
He said the Democratic Progressive Party was bringing up the scandal again now as part of its push to win the March presidential election.
DPP legislators praised Lee for appearing before prosecutors, while urging Soong to face judicial authorities rather than making charges the investigation is politically motivated.
"Soong's charge of political interference in the Chung Hsing Bills case is a mirror image of comments by former Kaohsiung City council speaker Chu An-hsiung's (朱安雄) wife and daughter, who blamed political persecution rather than apologizing for the missing speaker's behavior," DPP Legislator Gao Jyh-peng (高志鵬) said.
DPP Legislator Lai Chin-te (賴清德) asked Soong to elaborate on where the stolen funds have gone.
"More than NT$30 million from a public donation to the Chinese Nationalist Party (KMT) in the 1994 election campaign remains unaccounted for. The figure coincidentally matches the amount of money Soong had sent to an overseas account," Lai said yesterday.
Comments will be moderated. Keep comments relevant to the article. Remarks containing abusive and obscene language, personal attacks of any kind or promotion will be removed and the user banned. Final decision will be at the discretion of the Taipei Times.