Photography contest held to promote society support for senior citizens
Minister of the Interior Yu Chen-hsien (余政憲) yesterday urged society to provide more services to the elderly as the population of senior citizens is increasing.
"There are 206 million citizens who are over the age of 65, a number that makes up 9.17 percent of the entire population. By 2027, it is estimated that one out of five individuals will be a senior citizen," Yu said at an awards ceremony for a photography competition.
"Being old does not mean one cannot do anything; instead, it means the young has a lot to learn from the old," Yu said.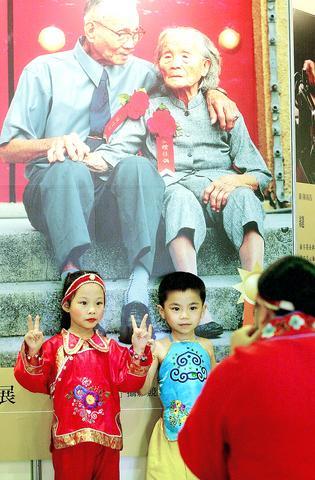 Two children pose at a photography exhibition focusing on the topic of old age yesterday, making a stark contrast between youth and old age. The exhibition is held at the Taipei Railway Station by the Ministry of the Interior.
PHOTO: LUO PEI-TE, LIBERTY TIMES
The awards ceremony was part of this year's senior citizen celebrations organized by the Ministry of the Interior and the Senior Citizen's Benefit Foundation (老人福利推動聯盟).
The "About Getting Old" photography contest drew 439 pictures of senior citizens from around the country.
The 38 winning entries were selected by the Taipei Photography Academy.
Hsu Kun-lun (許崑崙) from Tai-nan won first prize with a photograph titled "Ai-Yo" (哎呦), of an elderly woman biting into an ice cream cone.
After receiving the award, Hsu had agreed to become a voluntary photographer for the senior citizens' foundation.
"I love taking photographs of old people. When I approach an older person, I always treat him or her as a child," Hsu said.
"By using this friendly method, a senior citizen is usually happy to be photographed," Hsu said.
The award-winning photographs will be on display until Nov. 2 at the Taipei Train Station, North 2 exit.
Other activities yesterday included dance performances by senior citizens and kindergarten and free photographs for older people.
The celebration attracted about 100 senior citizens and family members.
Comments will be moderated. Keep comments relevant to the article. Remarks containing abusive and obscene language, personal attacks of any kind or promotion will be removed and the user banned. Final decision will be at the discretion of the Taipei Times.