Foreign workers portray struggle in poems
Foreign workers from Southeast-Asian countries voiced their homesickness and struggles in poems entered in the 2003 Foreign Workers' Poetry-Writing Contest.
Entitled Taipei, Listen to Me, the poetry-writing contest was held by the Taipei City Government's Labor Affairs Bureau and the awarding ceremony took place yesterday in the 228 Peace Memorial Park, which foreign workers frequent on their days off.
The Labor Affairs Bureau has organized the poetry-writing contest for the past three years, and drew entries from many foreign workers.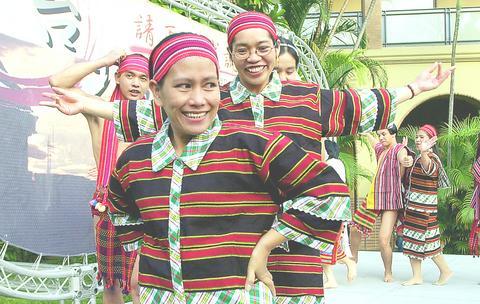 Foreign laborers from the Philippines dance a cordillera at the 2003 Foreign Labor Poem Recital and Awarding Ceremony yesterday.
PHOTO: SEAN CHAO, TAIPEI TIMES
The Labor Affairs Bureau received 814 entries and the majority were written in Indonesian, according to Sophia Chen (陳明鈴), chief of the city's Foreign Workers' Counseling Center.
"In Taipei, there are about 33,000 foreign workers from Southeast-Asian countries. Almost 70 percent of them come from Indonesia," Chen said.
"Most of them are women working as domestic helpers for Taiwanese families," she said.
Taipei Mayor Ma Ying-jeou (馬英九) conferred 18 awards on prizewinners at the ceremony.
"I found foreign workers have a more friendly impression of Taipei, judging by this years' poems," Ma said, emphasizing that the city government has taken workers' feelings into consideration when making related policies.
The prizewinners recited their prize-winning works and performed traditional dances.
The first prizewinner, Homiati Arjo Utomo, 26, is from Indonesia and holds a bachelor degree, and has worked in Taiwan for 16 months. She now serves as a domestic nurse for a Taiwanese family.
Her poem A Migrant's Diary conveyed her longing for freedom and the nostalgia for her homeland by vivid images and metaphors, according to the jury's statements. She won a department-store coupon to the value of NT$5,000.
"Poems are like mirrors. And these poems written by foreign workers reflect how Taiwanese employers, who have abundant resources, treat their migrant employees," said Chen Yin-chen (陳映真), one of the judges and also a writer and poet.
"These poems force us to think about how hypocritical the slogans are that we cry out every day like democracy, freedom, justice and human rights," Chen Yin-chen said, hoping that people would read the poems and try to place themselves in the foreign workers' position.
The poems can be read on the labor bureau's Web site at www.bola.taipei.gov.tw.
Comments will be moderated. Keep comments relevant to the article. Remarks containing abusive and obscene language, personal attacks of any kind or promotion will be removed and the user banned. Final decision will be at the discretion of the Taipei Times.