`I don't know where Chu is,' wife now says
Just days after assuring prosecutors that her husband would show up to serve his jail sentence, Wu Te-mei (吳德美) now says that she really has no idea about where former Kaohsiung City Council speaker Chu An-hsiung (朱安雄) is.
"I really do not know," said Wu. "Ever since he left home, he always called me but I could not reach him."
Wu made her remarks when she was walking into the Kaohsiung District Court for a hearing in the bribery case in which Chu was accused of buying votes -- for NT$5 million each -- in last year's city council speakership election.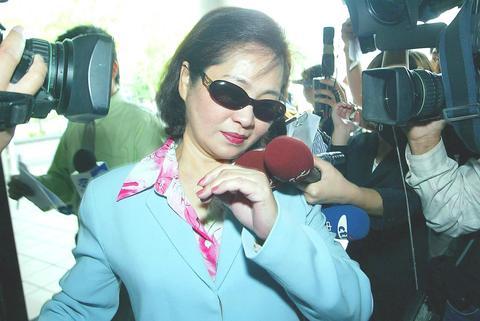 Wu Te-mei, wife of former Kaohsiung City Council speaker Chu An-hsiung, makes her way through a group of photographers as she walks into the Kaohsiung District Court yesterday.
PHOTO: CHANG CHUNG-YI, TAIPEI TIMES
Local police reported on Friday night that while Chu has not been seen since Oct. 10, Wu herself disappeared when officers visited her at her residence yesterday afternoon.
However, Wu did respond to Kaohsiung District Court Presiding Judge Lin Shui-cheng's (林水城) summons on time yesterday.
Wu, along with former Kaohsiung City Government Civil Affairs Bureau director Wang Wen-cheng (王文正) were both summoned as witnesses yesterday. However, they were dismissed by Lin three minutes after the hearing began because most of the summoned defendants were absent.
To wrap up the case as soon as possible, Lin decided to hold two additional hearings yesterday and today because most summoned city councilors again took advantage of the protection provided by the Constitution.
Ever since the district court began to hear the case in May, accused councilors have been using their constitutional immunity and asking for excused absences whenever they were summoned.
For yesterday's hearing, Lin summoned independent councilors Hsu Kun-yuan (許崑源), Chen Han-sheng (陳漢昇), Tsai Chien-hsing (蔡見興), Huang Shih-lung (黃石龍), Huang Tien-tsai (黃添財) and Lee Jung-tsung (李榮宗).
Only Hsu and Chen attended the hearing but both of them denied the vote-buying charges. The rest of the councilors all asked for an excused absence because the city council was meeting yesterday and today.
For today's hearing, Lin has summoned another six independent councilors: Chu Wen-ching (朱文慶), Chiang Chen-lu (江振陸), Chien Chin-cheng (簡金城), Chang Ching-chuan (張清泉), Lan Hsing-mu (藍星木) and Wang Ling-jiao (王齡嬌).
According to Lin, only Lan and Chang will attend today's hearing.
"Currently, among these 40 defendants in the case, 34 of them are city councilors. My colleagues and I have completed the verdict for 18 defendants. Another verdict for another nine defendants, including Chu, will be completed on Nov. 27," Lin said.
"However, the rest of the 13 councilors kept asking for excused absences which has seriously delayed the process."
Lin said that the court had notified the city council of the hearing yesterdays and today and expressed its hope that the council would avoid meetings at the same time -- a request that was obviously ignored.
Comments will be moderated. Keep comments relevant to the article. Remarks containing abusive and obscene language, personal attacks of any kind or promotion will be removed and the user banned. Final decision will be at the discretion of the Taipei Times.