Isolation cabin granted to the DOH
The Taiwanese Medical Association in Japan yesterday donated a negative-pressure isolation cabin worth NT$1.8 million to the Department of Health's (DOH) Taipei Hospital that will serve as the first of its sort in Taiwan. \nDirector-General of the Center for Disease Control (CDC) Su Ih-jen (蘇益仁) said that the transportation of SARS patients was a big problem for epidemiologists, as it was almost always necessary to use public facilities, such as elevators, where the disease can spread. \nHowever, Su commented that Taiwan probably would not need such sophisticated medical equipment any time soon, outlined that the cabin could be used in the event of bioterrorism. \nLee Meng-hsiu (李孟修), the Taiwanese Medical Association in Japan representative, said that there were only around five other such cabins. The cabin utilizes an air safety system whose filter mechanism that is 99.9 percent effective. \n"The CDC's has plans to handle the change of seasons and a corresponding influx of viral infection," Su said. \n"On Oct. 23, the CDC will hold a meeting to review all SARS-prevention strategies and technologies, including various innovations introduced by biotechnology companies in the private sector," Su said. \nHe outlined some of the strategies to be implemented soon, asserting that a new multiplex PCR -- a lab system for identifying viruses -- soon will be available. \n"It would test for not just SARS, but also influenza types A and B, metapneumo virus, Adeno virus, respiratory syncytial virus, Dengue fever and three different germs," Su said. \nHe explained that during the previous SARS outbreak, many patients suspected of SARS were actually only infected with the common cold. The multiplex PCR test would help eliminate influenza patients from the list of suspected SARS patients. \nHe said that between now and February, there would be around 100,000 cases of fever. Of this group, around 20,000 would have fevers that persisted for three to five days. \n"These patients would be given antibody treatment," Su said. \nSu estimated that for around 3,000 patients, the antibiotics would be futile. These 3,000 patients would then be given the multiplex PCR test to identify their condition. \nSu was quick to add that those with a persistent fever would still be isolated in case SARS is later confirmed in these patients. \n"In these upcoming months, we're going to have to deal with the rise in the number of fevers and influenza. In addition, the presidential election will coincide with the predicted rise in the number of illnesses. Will people be able to attend rallies? What will the policy be?" he said. \n"Of course, I will do what I can to make sure that SARS does not affect the elections," he added. \nRecapping the various stages of SARS prevention, Su said that he felt that about 50 percent of the work was done.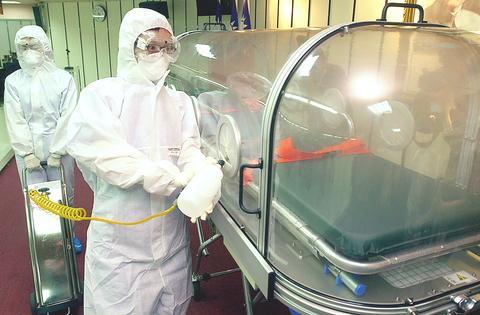 Medical personnel yesterday demonstrate how to use a negative-pressure isolation cabin at a press conference held at the Department of Health. The cabin was donated by the Taiwanese Medical Association in Japan.
PHOTO: GEORGE TSORNG, TAIPEI TIMES
Comments will be moderated. Keep comments relevant to the article. Remarks containing abusive and obscene language, personal attacks of any kind or promotion will be removed and the user banned. Final decision will be at the discretion of the Taipei Times.