Presidential Office backs Chen
OUTDATED DOCUMENT The secretary-general of the Presidential Office says Chen Shui-bian's plan for a new constitution would fix obsolete government mechanisms
Presidential Office Secretary-General Chiou I-jen (邱義仁) defended yesterday President Chen Shui-bian's (陳水扁) plan to create a new constitution before the end of 2006. \nChiou said a new constitution would not change the name or flag of the country but would address inappropriate government mechanisms to ultimately end political deadlock. \n"Over 65 percent of the current Constitution must be removed or amended. Therefore, the president used the words `pushing [for] a new constitution' to describe his resolution," Chiou said yesterday. \nChiou, a top strategist for the Democratic Progressive Party (DPP) and a leader of Chen's campaign staff, said the former government under the Chinese Nationalist Party (KMT) was unable to address the real problems with the Constitution due to its desire to maintain the Constitution's legitimacy. \n"Compared to the KMT administration, which only made specific amendments to the Constitution in past decades, the DPP has a mature plan for realizing constitutional reform," Chiou said. \nHe said that since Taiwan has experienced a transfer of power and that the past three years have shown that party conflicts were generated by inappropriate articles in the Constitution, "now is the best time to point out the importance of creating a new constitution." \n"It is a very wise step of the president to get the public thinking about constitutional reform," Chiou said. \nHe also reminded the public to read the DPP's 1999 Resolution Regarding Taiwan's Future and Chen's "five nos." \nAccording to the resolution, Taiwan is a sovereign and independent country whose official name is "Republic of China." \n"Any change in the independence status quo must be decided by all the residents of Taiwan by means of a plebiscite," the resolution says. \nChiou said, "Unless the DPP amends this resolution, President Chen and all party members must obey it, which means amendments to the Constitution will not change the national flag, name or territory, and that the reform will have nothing to do with the issue of independence or reunification," Chiou said. \nHe said the US has continued to express concern over whether Taiwan will maintain Chen's "five nos." \n"I told them that we have stayed on track." Chiou said. "I think they understand our position." \nHe said issues about how to reform the country's military, how to build an effective legislature and how to regulate the rights and obligations of the Cabinet and the legislature all need to be resolved through constitutional change. \n"If the opposition parties do not agree with us, they should also tell the public their concrete proposals," Chiou said.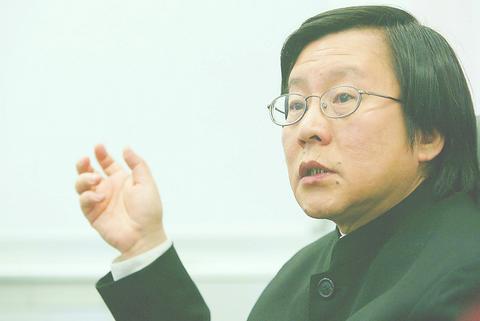 Presidential Office Secretary-General Chiou I-jen yesterday explains President Chen Shui-bian's remarks on a new constitution.
PHOTO: CNA
Comments will be moderated. Keep comments relevant to the article. Remarks containing abusive and obscene language, personal attacks of any kind or promotion will be removed and the user banned. Final decision will be at the discretion of the Taipei Times.