President may have to step in
President Chen Shui-bian (陳水扁) might have to step in to persuade the head of the Environmental Protection Administration (EPA), Hau Lung-bin (郝龍斌), to stay on in his post if Premier Yu Shyi-kun fails to convince Hau to do so, a top Presidential Office official said yesterday. \n"We respect the efforts the Cabinet is making to persuade Hau to stay on," said Presidential Office Secretary General Chiou I-jen (邱義仁). \n"If Hau still insists on leaving, the president will then decide whether to step in," he said. \nAccording to Chiou, Yu visited Chen yesterday morning to brief him about the matter, among other things. \n"The issue of a potential successor to Hau was not part of their conversation," Chiou said. \n"Hau is an excellent administrative officer and the differences between him and the Cabinet can be ironed out in the process of legislation," he said. \nTo expedite passage of a referendum law, the Cabinet on Wednesday withdrew its draft initiative and referendum bill that it sent to the legislature for review over a year ago and endorsed that of the Democratic Progressive Party's (DPP) legislative caucus. \nYu has assigned Cabinet Secretary-General Liu Shih-fang (劉世芳) to negotiate with opposition lawmakers to enact a referendum law that strikes a balance between environmental protection and direct democracy. \nChiou said that Hau tried to telephone Chen to inform him of the matter on Wednesday night. In addition to thanking Chen for trusting him during his two-and-a-half-year stint as the EPA chief, Chiou said, Hau expressed his resolve to leave the Cabinet. \nCommenting on the disagreements between Hau and Yu, Chiou said that he tends to believe more in professional reviews. \nThe government, however, has to hold public hearings, debates and discussion before calling a referendum. \n"I believe the people will make the best decision if given sufficient information about the pros and cons of a contentious issue," Chiou said. \nCabinet Spokesman Lin Chia-lung (林佳龍) yesterday said that Yu is making desperate efforts to persuade Hau to stay on and visited Hau's residence yesterday afternoon. \n"The premier turned down Hau's resignation late Wednesday night and dispatched an aide to deliver his response to Hau this morning," Lin said. \n"Media reports about the premier looking for Hau's successor is totally not true," he said, adding that Vice Premier Lin Hsin-i (林信義) had also tried twice to talk Hau out of resigning on Wednesday. \nCommenting on the construction of the Fourth Nuclear Power Plant, Lin Chia-lung said that the government's stance is clear. \n"We'll continue to build the partially constructed facility since we've earmarked budgets for next year to continue the job," he said. \n"However, the reliability of the facility's environmental impact assessment [EIA], completed in the early 1990s, is questionable because it was passed before the Environmental Impact Assessment Act (EIA Act, 環境影響評估法) was enacted," Lin Chia-lung said. \nHe said he hopes Hau will change his mind as he did about the referendum during his two-and-a-half-year stint. \n"When he first joined the Cabinet in 2001, he made it clear that he didn't support the idea of holding a referendum to decide the fate of the Fourth Nuclear Power Plant and the nation's sovereignty," Lin Chia-lung said. \n"Now he concedes to contend that public development projects whose EIA has already been passed, should be exempt from the application of the Cabinet's proposed referendum law," he said. \nLin Chia-lung reiterated that professionalism should not contradict direct democracy. \n"Professionalism and democracy, environmental protection and referendum can go together hand in hand. If not, we can try to make it work during the legislation process," he said.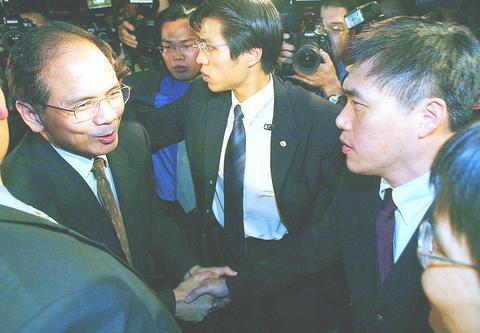 Premier Yu Shyi-kun, left, shakes hands with EPA Administrator Hau Lung-bin yesterday during a visit to Hau's home. Yu expressed the hope that Hau would stay on in his post to serve the people.
PHOTO: LO PEI-TEH, TAIPEI TIMES
Comments will be moderated. Keep comments relevant to the article. Remarks containing abusive and obscene language, personal attacks of any kind or promotion will be removed and the user banned. Final decision will be at the discretion of the Taipei Times.