Taiwanese youth prefer hip-hop and J-pop
In terms of chic, Taiwanese youth are attracted by things Japanese, with 40 percent who responded to a survey released yesterday saying that they like Japanese pop culture most.
Twenty-three percent of Taipei youth said they like European and American pop culture, followed by local pop culture at 19 percent.
Though South Korean TV series are popular in Taiwan, only 6 percent of the youths polled said they like South Korean pop culture.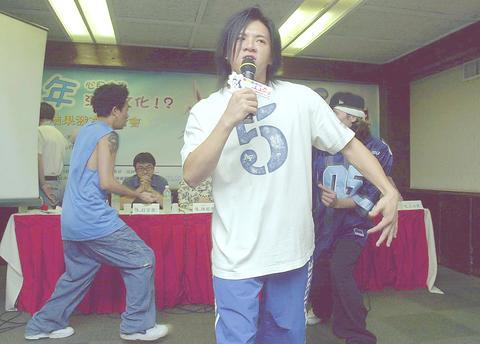 Dancers perform hip-hop at a press conference held yesterday to release the survey results on pop culture among the nation's youth.
PHOTO: CHIANG YING-YING, TAIPEI TIMES
The survey, conducted by the Taipei Youth Activity Center of the Taipei City Government, investigated the current developments and trends on four aspects -- the Internet, music and dance, dress and idols.
The results showed that youth look most to the Internet for pop culture information, or 58 percent, followed by music and dance performance (42 percent), dress and info on idols accounted for 37 percent and 33 percent respectively.
Council for Cultural Affairs Chairwoman Tchen Yu-chiou (陳郁秀), commenting on the survey, said that with the powerful economic might of Europe, the US and Japan, the tentacles of their pop cultures also reach the youth in this country, although she said that with the promotion of local education, some youths have begun gravitate toward local pop culture.
The council is planning to set up pop culture centers in the north, center and south of the country, Tchen said, so that young people will be able to access local pop culture with deeper substance.
The survey also found that more than 70 percent of the youths will go on the Internet for either pure entertainment or various other aspects.
Nearly 67 percent said they use the Internet to make friends and chat with others; 44 percent said they use the Internet for homework.
Commenting on the result, Democratic Progressive Party Legislator Tuan Yi-kan (段宜康) said that an addiction to the Internet could result in relationship alienation, with youth only concerned about their own enjoyment, without any enthusiasm for the outside world.
Comments will be moderated. Keep comments relevant to the article. Remarks containing abusive and obscene language, personal attacks of any kind or promotion will be removed and the user banned. Final decision will be at the discretion of the Taipei Times.