Pingtung art festival prepares for weekend launch
The 2003 Pingtung Peninsula Art Festival will kick off this Saturday in Pingtung County at the southernmost tip of Taiwan. \nThe arts festival, which will run until Nov. 2, will showcase 10 local installation artists, who will build their art work along the length of Kenting's main street, a popular hang out for tourists visiting the region. \nThe art festival will also feature theater, dance and music concerts and others activities such as outdoor sketching, art-work flea markets and art-discussion forums. \nDescribing the installation art, Tu Yen-liang (涂燕諒), director of Cultural Affairs Bureau of Ping-tung, who is organizing the festival, said one artist intends to project three-dimensional images of naked bodies on the walls of Kenting Avenue. Another, Tu said, will set up a rabbit hutch to present the idea of the animal's interaction with the environment, while another artist will create large-scale pop art signboards along the avenue. \nOn Oct.12, sponsors of the festival will hold an event in which the public will get a chance to create their own installation art with three local artists in Sheding Nature Park, Tu said. \nAbout 30 Taiwanese artists, including painters, sculptors and photographers, will display their artwork in exhibitions in three five-star hotels in the Kenting area. From Oct. 19, oil paintings by Belgian artist Jacob Francois will join the collections, according to Tu. \nPingtung County Commissioner Su Chia-chuan (蘇嘉全) said he has focused a lot of development on local art since he took up the post, with the art festival now entering its third year. \n"Like migratory birds passing through Hengchun Peninsula, the art festival has become the expectation of every Pingtung resident," Su said, adding that he hoped that people visiting Ping-tung could experience the beauty of the county, not only for the delicacies and beautiful scenery but as "something that moves the spirit." \nCouncil for Cultural Affairs Chairwoman Tchen Yu-chiou (陳郁秀) said, "The nature of tourism is to appreciate the culture of a region. The culture will remain in the memory forever, and the memory is the thing that we want to obtain from our trip."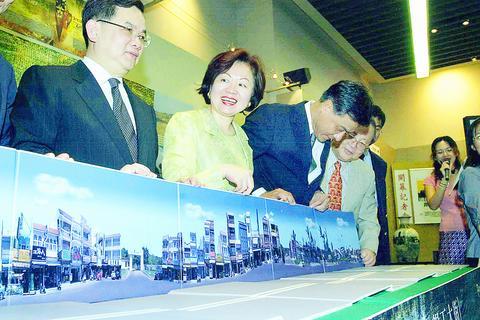 Left to right, Government Information Office Director-General Huang Hui-chen, Council for Cultural Affairs Chairwoman Tchen Yu-chiou, Pingtung County Commissioner Su Chia-chuan and other guests yesterday attend a press conference on the 2003 Pingtung Peninsula Art Festival, which starts on Saturday.
PHOTO: CHIANG YING-YING, TAIPEI TIMES
Comments will be moderated. Keep comments relevant to the article. Remarks containing abusive and obscene language, personal attacks of any kind or promotion will be removed and the user banned. Final decision will be at the discretion of the Taipei Times.