US-Taiwan ties are not at risk, defense expert says
REGIONAL SECURITY John Hamre, president of the Center for Strategic and International Studies, says Taiwan needn't fear improving Sino-American ties
Relations between the US and China will deepen in the years to come, but that does not necessarily pose a risk to relations between the US and Taiwan, a US defense expert said yesterday. \nThe war against terrorism and the North Korean nuclear crisis have forced the George W. Bush administration to reassess its relations with China, said John Hamre, president of the Center for Strategic and International Studies. \nIn his keynote speech to the International Conference on Political and Economic Security in Asia-Pacific sponsored by the Foundation on International and Cross-Strait Studies, Hamre recognized Taiwan's worries about the heightened collaboration between Washington and Beijing. \nHamre said he is aware there are those who fear Washington may reduce its commitment to Taiwan for the sake of improving ties to Beijing. \n"There are also those who worry that Beijing will rashly attempt to force America to choose between Chinese support against North Korea and American support for Taiwan," he said. \nBut Hamre said these fears are unlikely to be realized. He said China is cooperating with the US on North Korea out of its own self-interest rather than as a favor to the US. \nHe said China is in no position to demand concessions from the US on cross-straits issues because of their cooperation in confronting a dangerous and irresponsible government on the Korean Peninsula. \n"I believe the Chinese government understands this situation very well," Hamre said. \nAlso speaking at the conference -- which focused on the war on terrorism, US relations with Asian allies and regional economic security -- President Chen Shui-bian (陳水扁) expressed the nation's eagerness to participate in political and economic affairs. \n"I am convinced that regional security can only be achieved through international cooperation. Taiwan has been actively participating in the international campaign against terrorism," Chen said. \nTaiwan, Chen said, has been closely collaborating with other countries in intelligence sharing, the crackdown on money laundering and inspection of containers entering and leaving its ports. \nThe US appreciates Taiwan's cooperation to help block terrorist activities, especially the government's "courageous steps in helping to intercept potentially dangerous shipments in the region," Hamre said. \nThe country has done much to provide important intelligence support and has committed to work with the US on the Proliferation Security Initiative and the Container Security Initiative, he said. \nYoshio Okawara, president of Japan's Institute for International Policy Studies, told the conference in his speech that many security experts believe that after North Korea, the Taiwan Strait is a potential flash point. \nIn his keynote speech to the conference, the former Japanese ambassador to the US said one of the crucial factors involved in the Taiwan Strait issue is the state of relations between the US and China. \nVincent Siew (蕭萬長), chairman of the Chung-Hua Institution for Economic Research and a former premier, cited the example of Taiwan's relations with China to illustrate how economic variables affect national and regional security. \nTaiwan is facing a dilemma in handling the economic side of its national security due to its relations with China, Siew said. \nTaiwan is worried it will become over-dependent on China's economy, he said. \nHowever, if Taiwan does not develop cross-strait trade and economic relations, its fundamental economic strength might be affected, Siew said.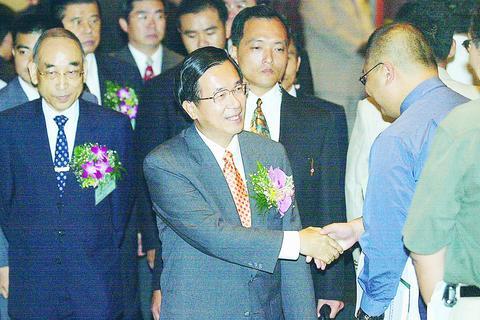 President Chen Shui-bian, center, shakes hands with attendees at the International Conference on Political and Economic Security in Asia-Pacific, accompanied by Chang King-yuh, left, president of the Foundation on International and Cross-Strait Studies.
PHOTO: CHIEN JUNG-FENG, LIBERTY TIMES
Comments will be moderated. Keep comments relevant to the article. Remarks containing abusive and obscene language, personal attacks of any kind or promotion will be removed and the user banned. Final decision will be at the discretion of the Taipei Times.