Detained foreign women receive a merciful visit
The Garden of Mercy Foundation together with the Eden Social Welfare Foundation and two Vietnamese brides yesterday visited detained illegal female Vietnamese immigrants and authorities handling the case in a bid to help them go home.
These women can't go home because they failed to obtain official documents or airplane tickets to return to Vietnam.
During the visit, about eight Vietnamese illegal female immigrants sat around the table, hiding their faces from the cameras.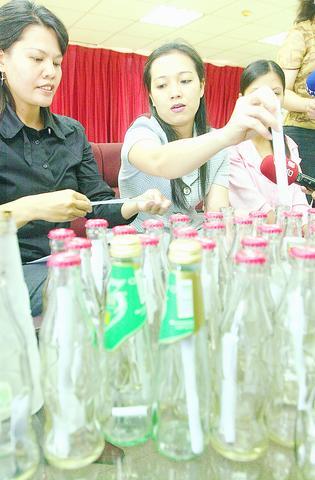 Vietnamese women married to Taiwanese husbands put written messages into bottles for illegal Vietnamese immigrants detained at the Taipei City Police Department's foreign affairs station yesterday.
PHOTO: GEORGE TSORNG, TAIPEI TIMES
"I miss home," said A-hua, who has been detained in the Taipei City Hall Police Department Foreign Affairs Service Station for over four months now without being able to return home due to lack of official documents.
The story of these women became sensationalized when a local newspaper misidentified A-hua as an HIV-infected person in mid-September, and criticized the Vietnamese Economic and Cultural Office in Taipei for inefficiently processing their official documents, thus delaying their return home.
"One of the woman actually tested HIV-positive, but it was not A-hua," said May Chiu (邱淑美), CEO of the Garden of Mercy Foundation. The foundation has already sent one social worker to help the HIV-infected woman.
"Although these women have broken the law and have been detained here, they miss their homes badly. Due to human rights concerns, we are willing to help them to return home as soon as possible. We ask the Vietnamese Economic and Cultural Office to accelerate the processing of their documents," said Chiu Kuang-ming (邱光明), CEO of the Eden Foundation.
The foundations brought 40 letters, each stuffed in a bottle, written by Vietnamese-Taiwanese brides to console and encourage the detainees. They also brought some Vietnamese cookies and sang Vietnamese songs to cheer up the women inside. Some of them cried when hearing the familiar Vietnamese song, which is about the love between father and child.
"There are some friends out there who want to greet you and they felt sad when they heard the bad news. They send their love and they hope for your early return home," Lin Hsien-miao (林賢妙), one of the Vietnamese brides, who read a letter to the women inside the station.
Having visited the women at the station, the two foundations then went to visit the Vietnamese Economic and Cultural Office, and Ho Sy Jue (胡士慧), the office's second-highest ranking official, received them.
"The office cannot decide on how fast these women's documents can be processed. It depends on how fast our government is processing them," Ho said.
"Sometimes it is difficult to contact these women's families since they might not have telephones and it takes, long time to travel from the city to the country to find their families."
Ho did announce, however, that A-hua's documentation was finally in order two days ago and now she may go home. But he also criticized the local media for lack of journalistic integrity and said the story had hurt A-hua.
Comments will be moderated. Keep comments relevant to the article. Remarks containing abusive and obscene language, personal attacks of any kind or promotion will be removed and the user banned. Final decision will be at the discretion of the Taipei Times.