Funeral-parlor party changes venue
The Taipei City Bureau of Social Welfare yesterday canceled plans to hold a party for young people at the municipal Taipei No. 1 Funeral Parlor on Aug. 26, due to strong protests from the neighborhood and families of the deceased.
The bureau originally intended to hold the party in an attempt to eliminate the public's fear of funeral parlors, promote modernized funeral practices and different funeral rituals and encourage young people to contemplate the meaning of life and death.
Young people in the city were excited about the event, with one student saying that he had even ventured into a graveyard before and there was nothing to be afraid of in a funeral parlor. Some considered it "cool" to have a party inside the parlor.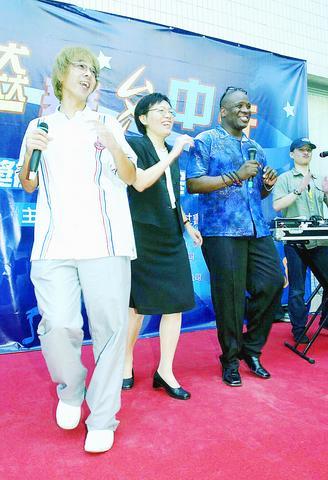 Taipei City Bureau Director of Social Welfare Ku Yen-ling, center, yesterday dances with Japanese singer BOSS, left, and DJ Chocolate during a press conference to announce that a party for young people will take place in the Ta-an Forest Park on Aug. 26. The party is intended to eliminate the public's fear of funeral parlors.
PHOTO: CHIANG YING-YING, TAIPEI TIMES
However, after the initial announcement, many residents in the neighborhood showed strong opposition, saying that the party would disturb not only the deceased but also the residents.
The families that held funerals in the parlor for the loved ones also expressed their anger. They said that holding a party there would show a lack of respect for the dead and their families.
The bureau, under huge pressure from all sides, yesterday decided to use another venue for the event. The party will now take place in the Ta-an Forest Park at 6pm on Tuesday.
"Since the funeral parlor is too small and can only accommodate a limited number of people, and as it is next to a residential area, we have decided to move the party to the spacious Ta-an park," said Ku Yen-ling (顧燕翎), the bureau's director.
The bureau said that they would invite popular singers and bands and a requiem will be performed in rock-and-roll style.
A questions-and-answers session about funerals will also be held.
Comments will be moderated. Keep comments relevant to the article. Remarks containing abusive and obscene language, personal attacks of any kind or promotion will be removed and the user banned. Final decision will be at the discretion of the Taipei Times.