KMT commemorates Battle of Taiwan Strait
On the eve of the 45th anniversary of the 1958 attack by China on the island of Kinmen -- known locally as the "823 Battle" -- the KMT last night staged a parade to commemorate the battle as a historic event which marked an important point in Taiwan's military history.
The parade started off at the Chiang Kai-shek Memorial Hall and ended in the Taipei 228 Memorial Museum with a music concert.
KMT Chairman Lien Chan (連戰) was among the audience at the musical event.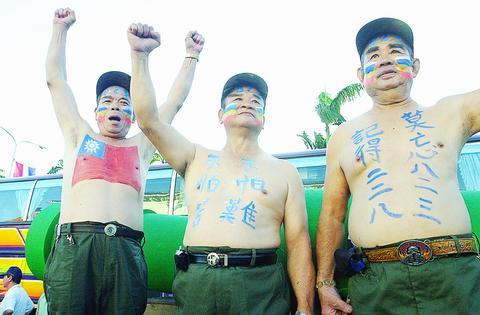 Three KMT veterans display the national flag and patriotic slogans on their bodies while attending a parade held in memory of the ``823 Battle,'' which took place exactly 45 years ago today. The parade was held in front of the Chiang Kai-shek Memorial Hall in downtown Taipei yesterday.
PHOTO: GEORGE TSORNG, TAIPEI TIMES
The "823 Battle," also known internationally as the "Battle of the Taiwan Strait," took place on Kinmen on Aug. 23, 1958 and is regarded as the second-biggest large-scale military confrontation to occur in the Taiwan Strait since 1949.
On that day, China's People's Liberation Army, in a bid to take the island, launched an intensive attack and fired heavy artillery at several islands off Kinmen. In 85 minutes, they had fired more than 30,000 shells.
The artillery bombardment continued until Jan. 7, 1959 with the total number of shells fired at Kinmen and the surrounding area exceeding 400,000.
The intense artillery assault was eventually repulsed by KMT troops stationed there, although many soldiers and civilians were killed or injured.
Amid the pan-blue camp's efforts to show a unified front in the run-up to next March's presidential election, some political observers interpreted the KMT-sponsored event as part of the pan-blue camp's attempt to bolster its support by appealing to the public's nostalgia.
Earlier this month, the KMT-run think tank, the National Policy Foundation, together with the Foundation for a Modern Legal System, sponsored a symposium evaluating economic policies under the rule of the late president Chiang Ching-kuo(蔣經國), Taiwan's last dictator.
Looking to Chiang as its spiritual leader, the pan-blue camp has attempted to cash in on his image and portray him as a reformer who helped Taiwan to develop, political observers said.
Comments will be moderated. Keep comments relevant to the article. Remarks containing abusive and obscene language, personal attacks of any kind or promotion will be removed and the user banned. Final decision will be at the discretion of the Taipei Times.