Head of elections fires volly at chiefs
The Cabinet-level Central Election Commission (CEC) has been preparing to hold a referendum. CEC Chairman George Huang in a recent interview with `Taipei Times' reporter Monique Chu elaborated on the commission's role in the eventuality that it is called upon to coordinate a referendum. During the discussion, the veteran political figure, who is not affiliated with any party and has led the CEC since 1994, shared his views on Taiwan's electoral politics
Taipei Times: The Cabinet has made public the enforcement measures to hold consultative referendums. What role does the CEC play in this decision?
George Huang (黃石城): While the government intends to hold referendums based on an administrative decree, the CEC will do its best to coordinate. It would have been better if the plebiscite law had sailed through the legislature because it can equip us with relatively solid authority to carry out our duties.
According to the Central Legal Standards Law (中央法規標準法) Legislation is required for issues related to people's rights and obligations. But since advisory referendums are not legally binding and therefore not directly related to the public's rights and obligations, it's legally justifiable to conduct these referenda based on an administrative decree.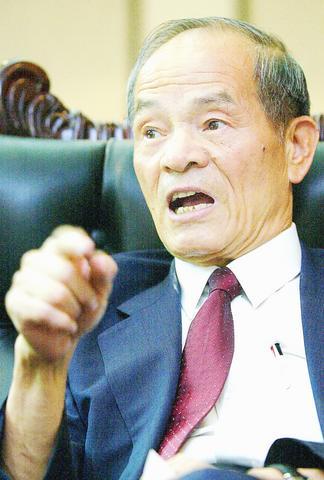 Central Election Commission Chairman George Huang.
PHOTO: SEAN CHAO, TAIPEI TIMES
The CEC will be in charge of various technical manners. These include issuing a referendum proclamation, the setting up polling stations, personnel arrangement for these polling stations of and related duties.
TT: The enforcement measures also stipulate that the CEC, when necessary, is entitled to seek assistance from related agencies or non-governmental institutions in its effort to hold referendums. Some say this can help the CEC go ahead with referendums even when local governments decline to help. What's your take on this?
Huang: The enforcement measures stipulate that referendums can be held together with elections for public offices or presidential elections. During the 2000 presidential election, the CEC mobilized around 160,000 personnel to work at polling stations in charge of the casting and counting of votes.
According to our recent estimation, some 50,000 to 60,000 personnel are to be added to our forces if we are assigned to hold referendums concurrently with the next presidential election. That means we have to seek outside assistance even when local governments are willing to cooperate.
But if by any chance some local administrations are unwilling to cooperate, the CEC will then be entitled to seek others to carry out the necessary duties.
TT: What are the challenges the CEC faces in supervising the local election commission in charge of the upcoming Hualien County commissioner by-election?
Huang: The CEC will beef up its efforts in supervising the local election commission in question as we've seen a fierce battle unfolding in Hualien, leading up to next month's by-election. As political appointees and big guns from various camps continue to stream down from Taipei, we'd like to urge eligible voters to keep their emotions under control while casting votes in front of the ballot boxes.
TT: Has Taiwan done enough to ensure that the election culture, transparency and impartiality of various elections are improving?
Huang: Since the CEC was established over 20 years ago, people have developed trust in the commission for its impartiality, transparency and independence in overseeing elections at all levels. Every [major] political party has taken part in CEC operations.
These commissioners recommended by political parties stop speaking for their respective parties once they enter the CEC for any meeting. Instead, their discussions focus on the election systems and operations. So the fine and just role the CEC has played in overseeing past elections has been acknowledged not only by the public but also by various political parties.
In addition, government funding for elections such as campaign subsidies for candidates and political parties has been well received.
But what I really feel sorry about is an election culture that features vote-buying and violence in Taiwan. If we are unable to eradicate vote-buying and violence, we won't be able to pick the good and select the capable for public posts, since election participation by the capable and the moral will be rather limited to start with, despite a fair and just election system. It's a pity indeed.
If voters are affected by violence take election-related bribery from certain candidates, the quality of the elected will be less than ideal, thus affecting the rights of the people in a negative manner.
The government has to assert its determination to eradicate violence and bribery from elections, with the justice ministry and the police engaging in crackdowns when necessary. Without positive actions, the effect will be limited.
TT: What's your general observation of Taiwan's domestic politics over the past few decades?
Huang: Political figures should be unselfish, but in reality a majority of them are. Their selfishness has led to stark political confrontations we've witnessed today, a development endangering the interest of the people and the nation as a whole. Taiwan's politics has lapsed into what I call "factional politics" because various political parties place their own interests before those of the nation and the people.
The purpose of upholding a democracy is to safeguard the dignity of human beings, which involve mutual respect for individuals.
But while good at preaching about democracy and human rights, politicians simply run amok.
They are rather busy inventing slogans and denouncing each other, without being able to keep their promises. My ears have now malfunctioned because of the words that they've said over the years.
Comments will be moderated. Keep comments relevant to the article. Remarks containing abusive and obscene language, personal attacks of any kind or promotion will be removed and the user banned. Final decision will be at the discretion of the Taipei Times.