Pan-blues call on supporters to `dump Wu'
HUALIEN ELECTION The official alliance candidate Hsieh Shen-shan is leading the polls but could be undone by leaking support to renegade Wu Kuo-tung
With the Hualien County commissioner race looking to be a close call between KMT-PFP alliance nominee Hsieh Shen-shan (謝深山) and KMT splinter candidate Wu Kuo-tung (吳國棟), some members within the KMT are calling for pan-blue supporters to resort to the so-called "dump-save effect" or "strategic voting" in a bid to avoid handing an unexpected win to DPP candidate You Ying-lung (游盈隆). \n"In view of local rumors that say Wu is set to receive wide support from local PFP grassroots, the Hsieh camp must not underestimate Wu's vote-pulling potential," KMT legislative leader Liu Cheng-hung (劉政鴻) said. \n"With the by-election drawing closer to the final countdown, PFP Chairman James Soong (宋楚瑜) should call for people to dump Wu in order to consolidate pan-blue support for Hsieh." \nThe by-election is slated to take place this coming Saturday. Although polls show that Hsieh is in the lead, both You and Wu are close behind showing steady increases in their support ratings. \n"Unless Hsieh can widen the gap between him and Wu, it is possible that the DPP candidate would benefit most from a tight race between Hsieh and Wu," said Liu. \nGiven the fact that both Hsieh and Wu's votes overlap as they battle it out for Hualien's traditional pan-blue support, the Hsieh camp is appealing to supporters to "dump Wu to save Hsieh," while the Wu camp is calling on its supports to do the opposite. \nBoth Soong and KMT Chairman Lien Chan (連戰) showed up in Hualien yesterday with a group of fellow party legislators. Accompanying Hsieh, the group engaged in an all-day electioneering effort yesterday ranging from visiting local influential figures, taking part in street procession to various Hualien villages, chatting with Aborigines over lunch and attending a campaign rally at night. \nWhile admitting that Soong holds significant sway with the region's Aborigines, Wu, a Hakka, remained confident Soong and Lien's presence would not threaten his basic Hakka support. \n"If the KMT and the PFP overplay their hand, it might produce a counter effect with Aborigines," Wu said. \n"That would not bode well for next March's presidential election," he added. \nAsked to comment on the pan-blue camp's "dump-save effect" propaganda, You said, "It is obvious the KMT and the PFP from the beginning have always wanted to get rid of Wu." \n"Although it is not yet clear how the `dump-save effect' would develop, I have gathered from my visits to grassroots that there seems to be a see-saw battle between Hsieh and Wu's supporters," he said.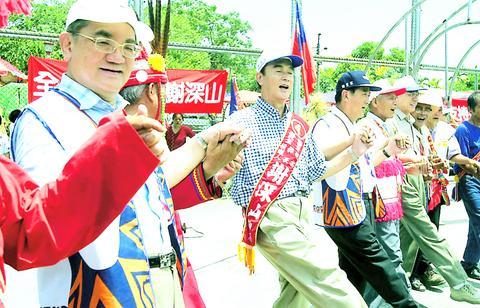 KMT Chairman Lien Chan, left, and PFP Chairman James Soong, third left, yesterday perform an Aboriginal dance with the blue camp's Hualien County Commissioner candidate Hsieh Shen-shan, second left, in Hualien yesterday.
PHOTO: CHIANG YING-YING, TAIPEI TIMES
Comments will be moderated. Keep comments relevant to the article. Remarks containing abusive and obscene language, personal attacks of any kind or promotion will be removed and the user banned. Final decision will be at the discretion of the Taipei Times.