Drive starts to save Taipei's trees
GREEN HERITAGE A recent case of a resident cutting down trees in violation of a Taipei City bylaw prompted his neighbors to start fighting for foliage preservation
With a tree-climbing event planned from 9:30am to 11:30am today in Taipei's Long-an borough, two graduate students of the National Taiwan University's (NTU) Entomology Department were discussing how to remove a hive from a big Indian rubber tree of about 60 years old to ensure that the event can proceed safely. \nThis activity features recreational tree-climbing as instructed by Su Jyun-lang (蘇俊郎), a certified tree-climber, who earned his tree-climbing certification in Atlanta, Georgia in the US. \n"Recreational tree-climbing is not competitive; rather, it is reflective and personal," Su said. \n"We do not climb trees freehand but with gear like ropes, helmets, harnesses, gloves and carabiners," he said. \nSu emphasized that safety is a top priority and said tree-climbing is a good pastime for kids. \n"By ascending to different heights in trees, children can experience a different viewpoint and closely interact with the tree through touch, which is a very good education for life" Su said. \nDubbed "Love Ching-tien, salvage old trees," the event also includes a tour guide to the oldest tree in the borough and a signature drive aimed at saving old trees at No. 9, Alley 7, Ching-tien Street (青田街), where five old trees have been cut down recently by a resident surnamed Liao, the owner of the Howard Plaza Hotel. \nLiao was fined NT$50,000 on July 17 by the Taipei City Government's Cultural Affairs Bureau according to the Taipei City Tree Protection Bylaw (台北市樹木保護自治條例). \n"We think that penalty was a low-level reaction. Trees will not be revived by fines. We hope to promote the idea of protecting trees in a positive way and this is why we have today's activity," said Yu Yun-sia (游雲霞), who launched the "Community Hero Association," aiming to protect the old trees and 19 old Japanese houses in Long-an borough. \nShe is also a biology teacher at the Jing-Mei girls' senior high school. \nYu said they did not blame Liao, who knew little about the bylaw, like many Taipei citizens. \n"We hoped through this activity the owners of the old trees, consumers of green resources, meaning the residents and the Cultural Affairs Bureau, can make protecting trees fashionable in a positive and constructive manner," Yu said. \nAs the leader of the Community Hero Association, Yu knows it is difficult to carry out their ideals without money. \n"It would help if the Cultural Affairs Bureau could allocate a budget for protecting trees by following its own example of preserving historic spots," Yu said. \nShe also suggested regulating the details of how to trim trees and setting up a hotline to report lawlessness. \n"I think the best way to protect old trees and old houses is not to move them," said Liao Hsien-hao (廖咸浩), director of the Culture Affairs Bureau. \n"We are planning policies to promote the bylaw such as providing naming signs for each old tree and organizing tours," Liao said. \nChang Wei-hsui,(張維修), a Ph.D. student of the Graduate Institute of Building and Planning at the NTU, who also participated in preserving of the historic spots, pointed out social problems behind this event. \n"Old houses, old trees and old people together constitute an underlying concern," said Chang. "Old houses are usually lived in by old people, who usually don't have the abilities and resources to preserve trees and houses." \nFor example, Chang said, a 50-year-old ginkgo tree growing in a Japanese house is rarely trimmed because the owner, the son of Professor Lin Chao-chi (林朝棨) of NTU is sick in bed and incapable of taking care of his yard. \n"If the authorities concerned enacted the bylaw without providing the necessary education and techniques, then it would be regarded as violence by the government," Chang said. \n"The strident sound of the electric saw cutting down a cinnamon tree, a eucalyptus tree, a mango tree, and a banyan tree also cut through Long-An residents' hearts," said Hong Chiu-chia (洪秋甲), the borough chief of Long-An borough. Hong said that he could not sit back and watch without going to the rescue of his "old friends" as he has lived in this neighborhood for 48 years, and has been borough chief for 18 years. \n"Besides, protecting old trees is to protect the value of the real estate. As a borough chief I'm taking care of residents' money," Hong said.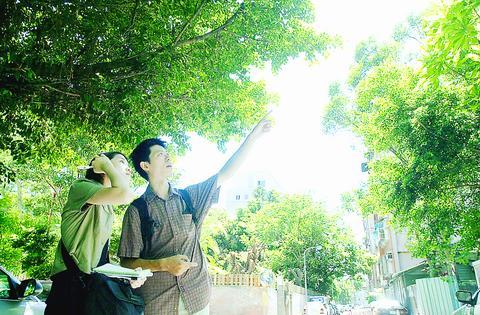 Chang Wei-hsiu, right -- a Ph.D. student in the Graduate Institute of Building and Planning at National Taiwan University -- teaches Taipei Times reporter Jewel Huang how to tell the ages of old trees.
PHOTO: GEORGE TSORNG, TAIPEI TIMES
Comments will be moderated. Keep comments relevant to the article. Remarks containing abusive and obscene language, personal attacks of any kind or promotion will be removed and the user banned. Final decision will be at the discretion of the Taipei Times.