City councilors in the clear, prosecutors say
Kaohsiung Chief Prosecutor Lin Ching-tsung (林慶宗) said yesterday that the 14 DPP Kaohsiung City councilors who showed their ballots during the vote for the speakership hadn't broken the law as long as there was no evidence of bribery.
Lin made his remarks after the election, which was carried out at the Kaohsiung City Council yesterday morning.
He said prosecutors realized that the DPP city councilors' showed their ballots in public to prove that they were following the party's policies during the vote.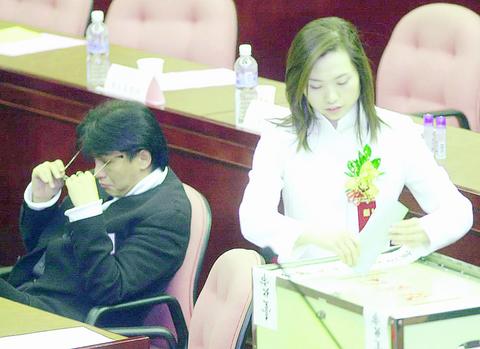 DPP Taipei City Councilor Yen Sheng-kuan casts her ballot yesterday in the election for speaker as the PFP's Wang Yu-cheng sits back in his chair. A tabloid magazine earlier reported that Wang -- a TV show host -- might have had an extramarital affair with Yen.
PHOTO: SEAN CHAO, TAIPEI TIMES
"As far as we are concerned, they [DPP Kaohsiung City councilors] were just showing their loyalty to their party." Lin said.
The DPP instructed its Kaohsiung councilors to endorse Kao Tzeng-ying (高宗英) and Chang Ching-chan (張清泉) as speaker and vice speaker.
The DPP assigned Secretary-General Chang Chun-hsiung (張俊雄) and Deputy Secretary-General Lee Chin-yung (李進勇) to monitor the election and make sure that all of the DPP's city councilors voted for Kao and Chang.
In addition to Lin, Kaohsiung prosecutors Hung Hsin-shu (洪信旭), Hsiao Yu-cheng (蕭宇誠) and Lee Jing-wen (李靜文) arrived at the city council to monitor the vote.
Despite the fact that prosecutors say that revealing the ballot is legal, independent Kaohsiung City Council Vice Speaker Tsai Sung-hsiung (蔡松雄) -- who just won his re-election for vice speaker yesterday -- was indicted for the same reason during a similar election in 1998.
According to the Kaohsiung District Prosecutors' Office's indictment, Tsai was charged with making public classified legal documents. Tsai was found not guilty during both his first trial and a second trial at the Kaohsiung District Court and the Taiwan High Court Kaohsiung Branch.
In Taipei yesterday, Taipei District Prosecutors' Office Deputy Prosecutor General Chen Hung-ta (陳宏達) and Chief Prosecutor Hsueh Wei-ping (薛維平) also arrived at the Taipei City Council to monitor the speaker's election.
TSU Lawmaker Lo Chih-ming (羅志明) yesterday said, "According to the rumors I heard, speaker candidates offered NT$10 million for each vote and candidates for the vice speakership offered NT$5 million for each vote. But the rumors did not say which candidates were actually offering bribes" Lo said.
In response to Lo's remarks, both the Kaohsiung and Taipei District Prosecutors' Offices said that prosecutors did not discover any evidence of vote-buying but would immediately begin an investigation if any such evidence turned up.
An anonymous official from the Ministry of Justice told the Taipei Times that it is difficult to make a case for vote-buying during speakers' elections.
"Because there are no vote captains involved, it will only be a deal between two people and prosecutors will not be able to find sufficient evidence if a candidate just paid his colleagues directly," the official said.
Comments will be moderated. Keep comments relevant to the article. Remarks containing abusive and obscene language, personal attacks of any kind or promotion will be removed and the user banned. Final decision will be at the discretion of the Taipei Times.