Red Army marches into Taiwan
The Russian Red Army Brass Band, touted as Russia's No. 1 band with their stimulating martial tunes, visited the parade square of Chiang Kai-shek Memorial Hall in Taipei yesterday to invite the Taiwan public to an inspiring celebration of the seasonal holidays.
The 24-member marching band, in a taut array, is an inspiring symbol of the Russian Red Army. Starting today and lasting until New Year's Eve, the band will give a series of concerts to treat Taiwan audiences to performances of a number of pop songs, melodies from movie soundtracks and Taiwanese ballads.
Established 50 years ago, the Russian Red Army Brass Band has been hailed as one of the world's best martial bands, and plays an indispensable role during Russia's military reviews, especially when celebrating national holidays or receiving important foreign dignitaries, said Veprintsev Vladimir, arts director of the Russian Red Army Brass Band, and also the director-general of all 75 martial orchestras in Russia.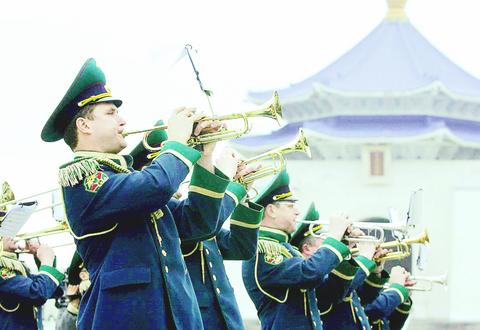 The Russian Red Army Brass Band plays in front of the Chiang Kai-shek Memorial Hall yesterday. The band begins a 10-day nationwide tour today, with a holiday concert series that wraps up in Hualien and Taipei on New Year's Eve.
PHOTO: CHIANG YING-YING, TAIPEI TIMES
Returning to Taiwan after a visit in November last year, conductor Andrey Kapralov said yesterday that the band this time will feature more popular tunes as well as some Taiwanese folk songs.
"We usually play Russian music or classical pieces," Kapralov said. "But this time we'd like to make our performances specially designated for the Taiwanese audiences."
The Russian Red Army Brass Band is directly supervised by Russia's Ministry of Culture.
The band was one of the most significant military symbols during the old Soviet era, and is now a vigorous and fast-growing popular band that has won new audiences with its highly acclaimed performances around the world.
Music pieces that are to be performed on this tour include popular movie tunes from Hollywood films such as Mission Impossible, Star Wars, LA Confidential and The Mask of Zorro.
Martial tunes to be played are MacArthur/Patton: Lust for Glory, Radetsky March, Parade of Soloists and Colonel Bogey, the march perhaps best known from the movie Bridge On the River Kwai.
The band's nationwide concert tour starts today in Kaohsiung, and then travels to Taichung, Tainan, Changhua, Hsinchu, Chungli and Penghu before finally wrapping up with concerts in both Taipei and Hualien on New Year's Eve.
Comments will be moderated. Keep comments relevant to the article. Remarks containing abusive and obscene language, personal attacks of any kind or promotion will be removed and the user banned. Final decision will be at the discretion of the Taipei Times.