Newsmakers: Former KMT heavyweight at heart of Zanadau probe
STINGING ALLEGATIONS Liu Tai-ying once commanded the respect of both the nation's businessmen and its politicians, but now he is struggling to clear his name
The ongoing probe into alleged financial irregularities of former KMT business chief Liu Tai-ying (劉泰英) has damaged his reputation.
Liu, who chaired the wealthy KMT's Investment and Business Management Committee between 1993 and 2000, exerted formidable influence from behind the scenes over Taiwan's political, financial and diplomatic affairs.
Normally cocky and blunt, he declined to speak to reporters over his alleged mismanagement of bank loans worth billions of Taiwan dollars.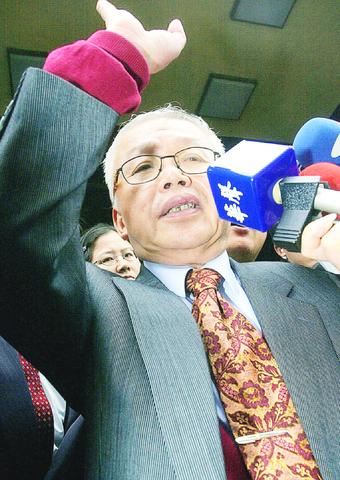 Former KMT business chief Liu Tai-ying used to be brash but these days he has little to say to the press about his predicament.
TAIPEI TIMES FILE PHOTO
"It would be inappropriate to comment on the investigation before it comes to an end," the weary-looking Liu said after emerging from a marathon interrogation Thursday. "I completely believe in the impartiality of the judiciary though."
On Wednesday, investigators raided Liu's Taipei residence and office for evidence in connection to abnormal transactions found in his bank accounts as well as those of his two sons.
They suspect Liu has taken advantage of his position to line his own pockets in violation of laws and professional ethics.
Su Hui-chen (蘇惠珍), the main shareholder of the Zanadau Development Corp, has accused Liu and his aides of bilking over NT$1 billion from her in exchange for a pledge to secure bank loans worth 10 times that amount.
The businesswoman took her case to law-enforcement officers after Liu failed to make good on the promise.
Once the most powerful money broker in Taiwan, Liu has roundly denied any role in the deal, though prosecutors detained two of his associates, Lee Ming-che (李明哲) and Hsieh Sheng-fu (謝生富), on suspicion of corruption and breach of trust last month.
He shrugged off all the transactions as political donations that fall outside the regulations of existing rules.
Sources close to Liu said he kept a secret account to collect service charges -- usually 10 percent of the worth of favors rendered be they bank loans or investment projects. He then used the fund to sponsor candidates in election campaigns.
He reportedly told investigators he gave a top-ranking KMT official and his family a huge amount of money during the 2000 presidential election.
The court ordered Liu's unconditional release following 26 hours of questioning. Earlier, authorities had placed a foreign travel ban on the chairman of China Development Financial Holding Corp.
With virtually exclusive access to the KMT's vast coffers prior to the transfer of power, Liu, 66, intimidated politicians and business leaders alike and has been linked to several high-profile financial scandals.
Investigators found he wired US$1 million to the Philippines in 1999 to support what he said was a presidential candidate friendly to Taiwan. He refused to elaborate except by saying he was asked to carry out the duty.
With a PhD in economics from US-based Cornell University, Liu was put in charge of the KMT's businesses in 1993 by then president and party chairman Lee Teng-hui (李登輝). The two met each other for the first time 40 years ago when Liu attended an economics course that Lee was teaching at National Taiwan University.
Smart and shrewd, Liu proved to be a competent treasurer, augmenting the KMT's wealth by NT$70 billion.
He dispensed favors mainly by directing KMT-affiliated businesses to invest in or bail out firms closely tied to the party or himself.
Su conceded she approached Liu because she was attracted by his success in saving the Core Pacific Group, which owns the Core Pacific City Mall in downtown Taipei, from near bankruptcy a couple of years earlier.
Liu and business allies also amassed a fortune from the local stock market by jointly purchasing shares of certain companies to push up their prices and selling them soon afterward. The Top Group was believed to have averted a financial crisis in 1998 in this manner.
Through playing the stock market and other maneuverings, Liu was able to cultivate an intricate web of business and political connections that includes CEOs from the Tuntex Group, the Core Pacific Group, the Ever Fortune Group and the Ruentex Group, to name just a few. An opportunist, Liu has befriended the DPP after the party swept into power in May 2000. At least 40 DPP lawmakers reportedly took donations from him during the legislative polls last year.
Presidential Secretary-General Chen Shih-meng (陳師孟) said Friday a political heavyweight did ask President Chen Shui-bian (陳水扁) to intervene on Liu's behalf after the Zanadau scandal hadsurfaced.
Some liken Liu to a time bomb whose explosion will jolt both the political and business communities.
"I bet the Liu probe worries many who played a part in his shoddy deals over the years," KMT Legislator Wu Den-yi (吳敦義) said. "I hope authorities will get to the bottom of the matter so as to free the nation from dirty money politics." Cynics, however, suspect the whole thing is a red herring to divert the public's attention away from the government crisis triggered by the mass protest by farmers and fishermen a week ago.
"That explained why the court rejected Liu's detention after all," said political commentator Timothy Ting (丁庭宇). "If that is really the case, the DPP government has made a big mistake."
Comments will be moderated. Keep comments relevant to the article. Remarks containing abusive and obscene language, personal attacks of any kind or promotion will be removed and the user banned. Final decision will be at the discretion of the Taipei Times.