Defector can't expect breaks from MAC
COMING HOME Justin Lin, who is believed to have deserted Taiwan's military for China in 1979, would be treated as a Chinese resident if he decides to cross the Strait again
Beijing University's China Center for Economic Research (中國經濟研究中心) Executive Director Justin Lin (林毅夫) will be treated and regarded as a Chinese rather than a Taiwanese if he comes back to Taiwan, Mainland Affairs Council (MAC) Deputy Director Jeff Yang (楊家駿) said yesterday.
"According to the Statute Governing the Relations Between the People of the Taiwan Area and the Mainland Area (兩岸人民關係條例), once a Taiwanese resident registers in China, his Taiwanese registration is canceled and this resident will have to apply for a visa just like other Chinese people if he wants to come back to Taiwan in the future," Yang said.
"Lin will not be regarded as a Taiwanese resident. That's for sure," he added.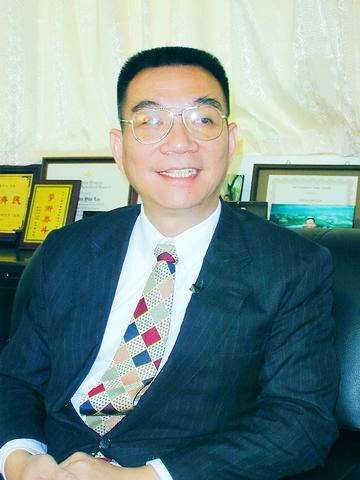 Justin Lin, an economics professor at Beijing University, is seen in this file photo.
PHOTO: CNA
However when the Taipei Times tried to confirm whether Lin's Taiwanese registration had been canceled, officials at the MAC, Ministry of the Interior and Ministry of National Defense (MND) -- all of which are handling Lin's case -- were evasive and could not confirm whether this had been done.
Lin was a Taiwanese marine officer when he was serving his military service more than 20 years ago. However, in 1979, he took off from his Kinmen base and swam to the Chinese coast with classified military information stolen from his office. After he surrendered to the Chinese army, the Chinese government gave him a chance to pursue a doctorate in the US and paid his tuition. He has since become an economist.
According to the MND, Lin was listed as missing immediately after he his departure and considered dead within the year. However, he was never put on Taiwan's most wanted list as a fugitive or a traitor.
Had Lin been regarded as a traitor when he left, the law at the time would have made him eligible for the death penalty.
MND spokesman Major-General Huang Sui-sheng (黃穗生) said that the ministry would do what it must if Lin comes to Taiwan. However, it is not the ministry's duty to approve any application for Lin to stay in Taiwan.
"According to the Military Law, we considered him dead after he went missing for more than a year," Huang said.
"He is not on our most wanted list," he confirmed.
Minister of Justice Chen Ding-nan (陳定南) also confirmed that the statute of limitations leaves little legal room to pursue a case against Lin.
"Lin's surrender to the Chinese army violated both the Criminal Code (刑法) and the Military Law," Chen said. "The military did not prosecute him since he was considered dead rather than a traitor. As for the Criminal Code, the legal period under the statute of limitations is 20 years."
The minister added that pros-ecutors will act in accordance with the law.
In a related story, Wu Miao-ho (吳淼火), a former navy officer, surrendered to the Chinese army in 1979, just like Lin.
However, unlike Lin, Wu was listed as a military traitor by the MND and was put on the most wanted list.
The statute of limitations of the Military Law specifies 25 years and Wu was immediately arrested by the military police and sentenced to five years in jail when he returned to Taiwan in 1998.
He was released on parole and now lives in Miaoli.
Comments will be moderated. Keep comments relevant to the article. Remarks containing abusive and obscene language, personal attacks of any kind or promotion will be removed and the user banned. Final decision will be at the discretion of the Taipei Times.