Worries, prayers and grief
In Hong Kong, people are canceling their CAL fights and booking tickets with other airlines while Taiwan begins to mourn the passengers of ill-fated flight CI611
Saturday's China Airlines' disaster has triggered a panic at Hong Kong's airport as customers who have already booked CAL flights scramble to cancel their tickets and take alternative flights, according to Hong Kong media. \nThe Chinese-language Ming Pao (明報) reported yesterday that famous entertainer Chou Yu-min (周渝民), a member of the Taiwanese pop band F4, changed his flight. Chou canceled a CAL ticket from Hong Kong to Taiwan yesterday and flew with another carrier, the report said. \n"If I had a choice, I would certainly not choose CAL. So many accidents would scare anyone," the report quoted another Taiwanese traveler surnamed Hsu (許) as saying. \nSome relatives of the Hong Kong passengers who boarded the ill-fated CAL flight on Saturday rejected the carrier's offer to fly them to Taiwan on its own aircraft, forcing the company to arrange a Cathay Pacific flight for them. \nSaturday's crash was CAL's 10th fatal accident since 1970, and is likely to be the second most serious in the company's history. \nMeanwhile, Joseph Tung (董耀中), executive director of Hong Kong's Travel Industry Council, said the council views Saturday's crash as an isolated incident and will not issue any advisory notice to travel agencies regarding their choice of airline companies. \nSix Hong Kong passengers were among the 225 people on board, but the flight was not carrying any tour groups organized by Hong Kong travel agencies. \nAccording to Tung, dozens of tour groups consisting of several thousand people travel from Hong Kong to Taiwan each week. The number of Hong Kong tourists visiting Taiwan has risen steadily since Taiwan began to offer Hong Kong's citizens 14-day tourist visas upon arrival in August last year, Tung said. \nThe Hong Kong-Taipei route has more than 200 flights per week. CAL, along with Cathay Pacific, has dominated the route, but a new air deal under negotiation is expected to give a large portion of additional flights to rival EVA Airways Corp (長榮航空), according to the weekly aviation magazine Flight International. \nMore than 320,000 people from Hong Kong visited Taiwan last year, a 22 percent increase from the year before. In the first quarter of this year, more than 80,000 people from Hong Kong visited Taiwan and some 190,000 Taiwanese visited Hong Kong. \nApart from tourists, Taiwanese businessmen operating in China also stop over in Hong Kong on their way in and out of China, due to a lack of direct transportation links between Taiwan and China.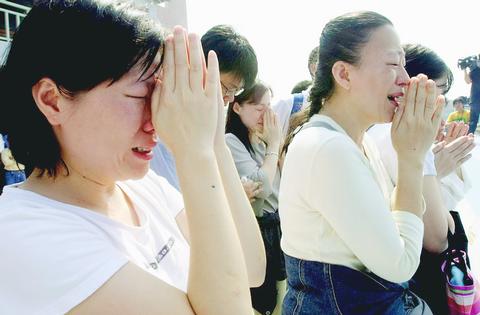 Relatives of the crash victims pray for their loved ones at the port of Chihkan in Penghu yesterday.
PHOTO: GEORGE TSORNG, TAIPEI TIMES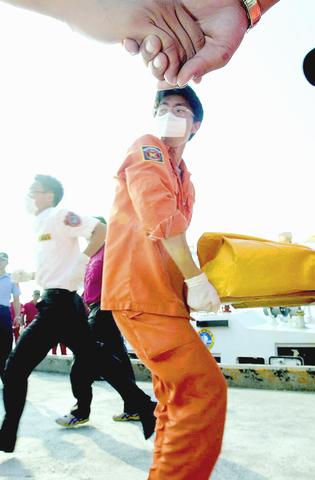 Rescuers carry the body of a flight CI611 crash victim out of a Coast Guard vessel in Penghu yesterday.
PHOTO: GEORGE TSORNG, TAIPEI TIMES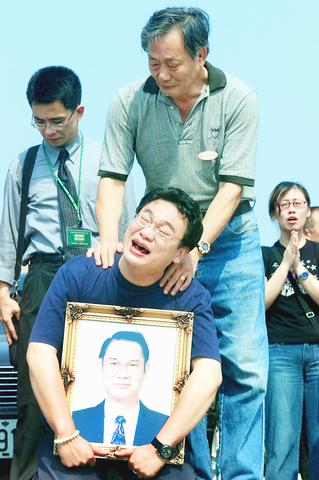 A relatives of passengers aboard the China Airlines flight weeps and calls out to the sea in a traditional spirit-calling ceremony on the island of Penghu yesterday.
PHOTO: REUTERS
Comments will be moderated. Keep comments relevant to the article. Remarks containing abusive and obscene language, personal attacks of any kind or promotion will be removed and the user banned. Final decision will be at the discretion of the Taipei Times.