`In politics, one plus one doesn't always equal two'
The Generation-E Alliance, a pro-localization subgroup of KMT legislators, has recently expressed its support for a KMT-PFP merger but is against KMT-PFP cooperation. Shyu Jong-shyong, leader of the alliance, recently spoke with `Taipei Times' staff reporter Stephanie Low on why he is against a Soong-Lien presidential ticket
Taipei Times: Why do you support a KMT-PFP merger? \nShyu Jong-shyong (徐中雄): Logic tells us that one plus one equals two, but in politics, one plus one does not necessarily equal two. Instead, it is X plus Y equals two, and the values of "X" and "Y" are what we need to find out. \nPeople think KMT-PFP cooperation is like "one plus one equals two," but I doubt that. I've been trying to find out whether the idea of KMT-PFP cooperation is consistent with mainstream public opinion and if the two parties would still stay at the center on the independence-unification spectrum after cooperating with each other. \nRelatively speaking, a KMT-PFP merger would not involve such a problem. Though the PFP always says the two parties share the same ideology, it actually puts its own interests before anything else. They will only share ideology when they share common interests. In the case of a merger, there will be one party sharing common interests. \nIf there are problems forming a merger at this stage, we should put forth a timetable for the merger. Only in this way can we ensure the two parties are cooperating with each other with sincerity. \nTT: What do think about PFP Chairman James Soong's (宋楚瑜) proposal for the KMT and PFP to form a "united team" and field a joint ticket in the 2004 presidential election? \nShyu: The KMT's situation is different from the PFP's. Lien Chan (連戰) has been the KMT's No. 1 hypothetical presidential candidate, but not its only one. But Soong is the PFP's top and only candidate. When Soong expresses support for a "Lien-Soong ticket" and a "Lien-Soong team," he is trying to imply that Lien will be on the ticket just to ensure his own candidacy. \nIn the second stage, Soong will try to create the illusion that the "Lien-Soong ticket" is the "dream combination" when it comes to KMT-PFP cooperation. Then finally, Soong, as he has said, will respect public opinion, as expressed through opinion polls [on who should be the presidential candidate and who should be the vice-presidential candidate]. \nDo you think Lien could beat Soong in such a poll? The KMT will end up losing its individuality. \nTVBS on Friday released an interesting poll which indicated that 55 percent of the people favor KMT-PFP cooperation. But a Lien-Soong ticket won only 34 percent of public support, while Chen Shui-bian (陳水扁) won 39 percent. This proves that a Lien-Soong ticket doesn't ensure a sum of the votes won by the two separate tickets led by Lien and Soong in the 2000 presidential race. \nTT: You've insisted the KMT field its own candidates in the next presidential election and named Legislative Yuan speaker Wang Jin-pyng (王金平) and Taipei Mayor Ma Ying-jeou (馬英九) as two possible candidates should Lien decide not to run. Is this move intended to contain Soong? \nShyu: I'm not targeting any individual. As far as democracy is concerned, everything should be handled according to certain mechanisms. In other words, nobody is indispensable in this world. It doesn't matter if there is no Soong, Lien or some other [high-profile] figure you can think of. As long as there are mechanisms in the party, the sun will rise from the east tomorrow as usual. \nThe move is mainly to push Lien to take a stand soon. As an opposition party, the KMT is lacking in administrative resources, and it needs to position itself properly first before moving forward. It should not start later than the ruling party. \nA democratic party should not follow a strong-man leadership or encourage personal heroism. The problem now is that Lien has not taken a stand. If Lien announces that he won't make a second presidential bid, many people will express their interest in running. \nTT: Many people argue that it is impossible for the KMT to win the 2004 presidential election unless it cooperates with the PFP. What do you think about that? \nShyu: I don't believe it. In central and southern Taiwan, the PFP doesn't exist at all. In those areas, what exist are the population and factional structures established under a political culture formed during the past 50 years of the KMT in power. This situation was clearly demonstrated in the January elections for deputies to county councils around Taiwan, in which the PFP won only a few seats, compared with the KMT, which seized over 70 percent of the seats. \nThe KMT is a major party in Taiwan, and it is impossible for the KMT to treat the PFP as its equal or even let the PFP lead the KMT by the nose just because the PFP has made a deceptive show of its power. \nTT: The Generation-E Alliance's opinion that the KMT should not cooperate with the PFP is obviously different from Lien's inclination toward such cooperation. Is there a struggle going on within the KMT over the party line? \nShyu: The existence of different opinions within the party doesn't mean the party is going to split. A democratic party needs brainstorming to gather momentum and keep its vitality. It is true that the KMT has differences within the party, but the most important characteristic of the KMT is that it is a party of tolerance. The so-called struggle over the party line is a phenomenon occurring in the process of the party's democratization. It doesn't matter how many different opinions exist in the party as long as there is a system within the party for decision making. \nTT: Former President Lee Teng-hui (李登輝) and the TSU have criticized Lien for leading the KMT toward a pro-China path. Do you think this criticism is fair? \nShyu: Too many politicians have put "localization" in their mouths to try to glorify themselves. This is a most evil act. They are narrowing the meaning of localization. \nLocalization should not be defined by ethnic origins. Localization means to prioritize the development of Taiwan.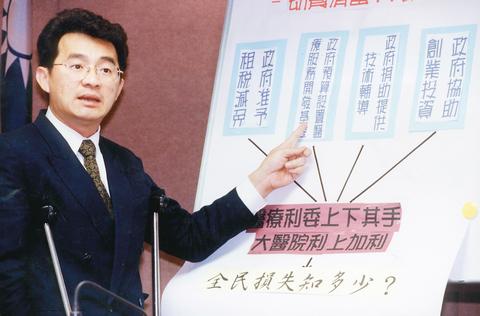 KMT lawmaker Shyu Jong-shyong speaks to the legislature. Shyu is a staunch opponent of a joint James Soong-Lien Chan presidential bid.
PHOTO: LIAO JUI-HSIANG, TAIPEI TIMES
Comments will be moderated. Keep comments relevant to the article. Remarks containing abusive and obscene language, personal attacks of any kind or promotion will be removed and the user banned. Final decision will be at the discretion of the Taipei Times.