Taipei City getting tough on dirty dogs and their owners
Around 150 dog owners walked their pets around Taipei City Hall yesterday and scooped up any dog excrement they saw as part of a campaign to persuade the city's residents to mind their dogs' business.
The event, "Walk your dog on a leash, clean up dog excrement," was sponsored by the city's Bureau of Environmental Affairs.
"The purpose of this event is to call on all dog owners to develop a good habit in cleaning up their dogs' excrement and putting their dog on a leash when they go for a walk," said Stephen Shen (沈世宏), the bureau's director.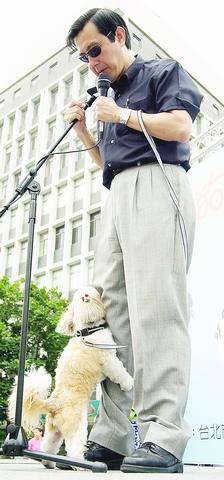 Taipei Mayor Ma Ying-jeou calls for the citizens of Taipei to keep their pets from defecating and urinating freely on the streets of Taipei at the ``Walk your dog on a leash, clean up dog excrement'' campaign in Taipei yesterday.
PHOTO: LIAO CHENG-HUEI, TAIPEI TIMES
Shen said that though the number of stray dogs in the city has fallen from 55,000 in 1999 to roughly 11,000 this year, the city's 210,000 pet-dog population means that dog excrement remains an problem.
"Many citizens complain about dog excrement on sidewalks, streets and other places. So through [yesterday's] promotion, we hope to call on the general public to develop a new `metropolitan culture' in cleaning up the excrement left behind by their dogs," he said.
He advised dog owners to bring along old newspapers when taking their dogs for a walk as a preventative measure.
"So after the dog has done its business, the owner can wrap it up with the newspaper and take it home," Shen said.
Yesterday's event, attended by Taipei Mayor Ma Ying-jeou (馬英九), included tips on how to spot the right time to put the newspaper on the ground and a demonstration of how to wrap the newspaper afterward.
Shen said the bureau would distribute brochures to Taipei residents next month, after which it would start enforcing regulations regarding dogs more vigorously.
According to the Animal Protection Law, dog owners who fail to use a leash when walking their dogs face a maximum fine of NT$10,000. Owners who do not clean up after their dogs could be fined a maximum NT$6,000.
Comments will be moderated. Keep comments relevant to the article. Remarks containing abusive and obscene language, personal attacks of any kind or promotion will be removed and the user banned. Final decision will be at the discretion of the Taipei Times.