Dodgers exit after Kershaw blows lead
'CRAZY' NIGHT: The St Louis Cardinals belted the most productive first inning in post-season history as they advanced to the National League Championship Series
Clayton Kershaw might well go into the MLB Hall of Fame one day on the strength of his amazing regular-season success — dragging behind him a painful October history that he would rather forget.
Another chapter to his playoff woes was added on Wednesday, when the three-time Cy Young Award winner squandered a two-run lead with the Los Angeles Dodgers six outs from advancing to a fourth consecutive National League Championship Series.
Pitching in relief of effective starter Walker Buehler and looking to help seal Game 5 of the five-game series against Washington at home, Kershaw gave up homers on consecutive pitches to Anthony Rendon and Juan Soto that tied it the 3-3 in the eighth inning.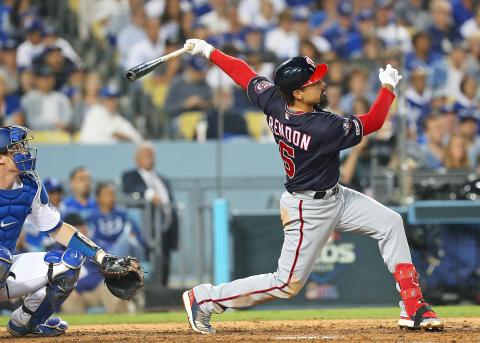 Anthony Rendon of the Washington Nationals follows through on a solo home run off Los Angeles Dodgers pitcher Clayton Kershaw at Dodgers Stadium in Los Angeles, California, on Wednesday.
Photo: EPA-EFE
The wild-card Nationals won 7-3 after a grand slam in the 10th by former Dodger Howie Kendrick off Joe Kelly.
"Just a terrible feeling," Kershaw said.
Kershaw has been the heart and soul of the Dodgers almost since the time he arrived in Los Angeles as a 20-year-old in 2008.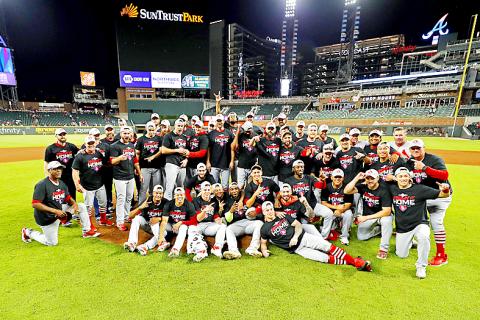 The St Louis Cardinals pose for a photograph after their win over the Atlanta Braves to take the National League Division Series at SunTrust Park in Atlanta, Georgia, on Wednesday.
Photo: AFP
While his body of work in the regular season is practically unmatched, he had a 4.33 ERA in this post-season — and that was before giving up two more runs on Wednesday.
The left-hander entered in the seventh and struck out Adam Eaton on three pitches with two on to end the inning, but never got another out.
"I might not get over it," he said. "I don't know."
Los Angeles Dodgers pitcher Clayton Kershaw sits in the dugout after his turn at the mound against the Washington Nationals at Dodger Stadium in Los Angeles, California, on Wednesday.
Photo: AFP
Kershaw also took the loss as a starter in Game 2 of this series at home, when he gave up three runs and six hits in six innings. He has nine career post-season wins, but has lost 11 times in 32 career outings.
"Everything people say is true right now about the post-season," Kershaw said.
If Rendon's home run to pull the Nationals within a run was a jolt to the system, the long ball from Soto, deep into the seats in right-center, was the gut punch.
Kershaw crouched on the mound before Soto's drive even cleared the wall, removing his cap and turning his head to watch the ball land in the crowd.
Lifted by manager Dave Roberts for right-hander Kenta Maeda, Kershaw walked to the dugout with his head down, void of expression. He sat on the bench alone, slumped and sagging for a while, looking at the ground.
"He's a pro. He's probably the best pitcher of our generation, and for him to make himself available tonight, and got us out of a big spot right there," Roberts said. "It just didn't work out. There's always going to be second-guessing when things don't work out. I'll take my chances on Clayton... It's a guy that I believe in, I trust, and it didn't work out."
Kelly's struggles that followed were merely a continuation of a disappointing regular season, when the right-hander posted a 4.56 ERA in 51-1/3 innings. What was especially cruel for the Dodgers about watching Kelly struggle was that he was a key component out of a Boston Red Sox bullpen who held down Los Angeles in last year's World Series.
Kelly finished the season working his way through a mysterious lower-body injury that was essentially described as soreness.
The Dodgers dominated all season while winning a franchise-best 106 games and their seventh straight NL West title, but Washington struck where they were most vulnerable.
In Atlanta, Georgia, the St Louis Cardinals turned the diamond into a giant pinball machine, dinging hits all over SunTrust Park.
By the time the Atlanta Braves finally got the third out, it was the most productive first inning in post-season history.
The Cardinals scored 10 runs their first time up and dealt Atlanta another playoff heartbreak, routing the Braves 13-1 in the decisive Game 5 of their NL Division Series.
"That was crazy," said Marcell Ozuna, one of five players who batted twice in the stunning outburst. "We got a good opportunity and we took it."
Before many fans had reached their seats, the Cardinals were already booking their plans for the NL Championship Series, where they face Washington in a best-of-seven set that is to start today at the Busch Stadium.
"We know we can beat anyone at this point," Kolten Wong said.
For the Braves, it might take a while to get over this debacle. After pitching seven scoreless innings in their Game 2 win, Mike Foltynewicz retired only one hitter before getting yanked. First baseman Freddie Freeman booted a potential double-play ball that might have limited the damage.
The Cardinals scored their final run of the inning on a strikeout — a wild pitch in the dirt that skipped away from catcher Brian McCann.
"We just strung together a bunch of great at-bats," Wong said.
It was Atlanta's 10th straight post-season series loss since their last victory 18 years ago, tying the ignominious mark set by the Chicago Cubs between 1908 and 2003.
Carrying on the tradition that started at Atlanta-Fulton County Stadium, moved on to Turner Field and is now becoming an annual occurrence at SunTrust Park, it was a visiting team who got to celebrate.
The Cardinals broke out T-shirts and caps, hopped around in the middle of the infield and gathered on the pitcher's mound for a team portrait with the center field video board looming as a backdrop.
For the 13th time in 21 post-season appearances since moving to Atlanta, the Braves finished the year with a loss on their home field.
"It was more of a shock than anything," said Josh Donaldson, whose homer provided the lone Atlanta run. "You don't expect something like that to happen, especially with how well we played all season."
The Cardinals batted around and got more than halfway through their order a second time before the Braves even came to the plate.
Tommy Edman, Dexter Fowler and Wong all had two-run doubles as St Louis equaled the highest-scoring inning in post-season history, a record set by the Philadelphia Athletics against the Chicago Cubs in the 1929 World Series and matched by the Detroit Tigers in their 1968 World Series against St Louis and the Anaheim Angels in their 2002 American League Central Series versus Minnesota.
No team had ever scored 10 runs in the very first inning of a post-season game.
Comments will be moderated. Keep comments relevant to the article. Remarks containing abusive and obscene language, personal attacks of any kind or promotion will be removed and the user banned. Final decision will be at the discretion of the Taipei Times.