Browns routed as 49ers stay perfect
Richard Sherman has a strong message for anyone still doubting the unbeaten San Francisco 49ers.
"Don't flip-flop," Sherman said on Monday after the 49ers thumped the Cleveland Browns 31-3. "If you said we weren't going to make it, you said we were some way early on, stick with that position. Hold it. Don't try to give us credit now. At least stick by your word because I want you to sound like an idiot at the end. We know what we have in the building."
What the 49ers have is their best start since Joe Montana was throwing touchdowns to Jerry Rice, but it was not the passing game that carried San Francisco past Cleveland. A steady, pounding running game and a dominant defensive effort did the trick this time.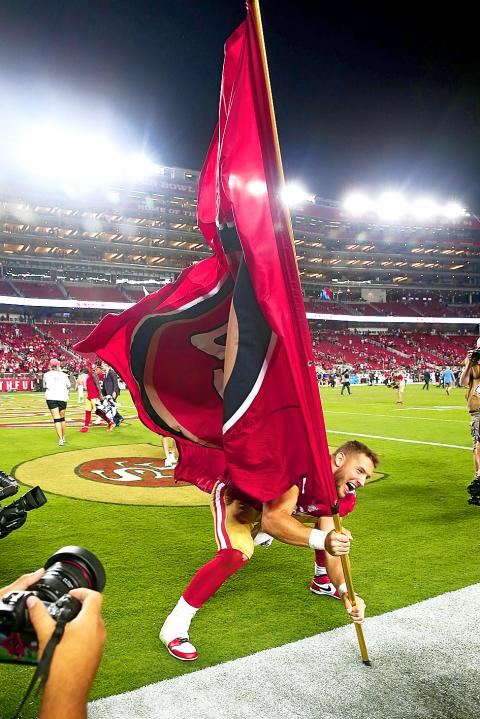 Nick Bosa of the San Francisco 49ers plants a flag in the field after beating the Cleveland Browns in their NFL game in Santa Clara, California, on Monday.
Photo: AFP
Matt Breida ran 83 yards for a touchdown on San Francisco's first play from scrimmage and Baker Mayfield was harassed into his worst game as a professional as the 49ers stayed unbeaten for their best start in nearly 30 years.
Even then, there were some questioning San Francisco's legitimacy.
"I feel like they're going to say that all year about us," said Breida, who had 114 yards on 11 carries. "I don't think anyone expected us to be 4-0 this year, to be honest. Probably expected us to be 0-4. They can say whatever they want. All that matters is who's in this locker room."
Tevin Coleman added a 19-yard score as part of a dominant ground game on a day when quarterback Jimmy Garoppolo passed for 181 yards, while kicker Robbie Gould missed a pair of field-goal attempts and had a third blocked.
It is the first time the 49ers have won their first four games since 1990.
"It's a good start is really all it is," Garoppolo said. "We have a good mindset in that locker room."
The Browns (2-3) are headed the opposite direction after losing two of three, with fresh concerns about their young quarterback.
"You can't have mistakes. You can't have turnovers. You can't have drops. You can't have penalties," Cleveland coach Freddie Kitchens said. "Offensively, that kind of summed us up. We just shot ourselves in the foot too many times."
Mayfield had a horrible game.
The No. 1 overall pick last year, Mayfield completed eight of 22 passes for a career-low 100 yards, had a 13.4 passer rating, threw two interceptions, fumbled twice and was sacked four times before being pulled in the fourth quarter.
It was the first time in Mayfield's 18 career starts that he failed to throw a touchdown pass.
"It was like one step forward, two back," Mayfield said.
Things were rough all around for Mayfield.
San Francisco defensive end Nick Bosa poked fun at the Browns quarterback after forcing Mayfield into a hurried incompletion in the second quarter.
Bosa got up and pretended to wave a flag and plant it in the turf as the crowd roared. It was a clear shot at Mayfield, who planted an Oklahoma flag in the turf after leading the Sooners to a win over Bosa and Ohio State in 2017.
"I think everybody knows what that was for," Bosa said. "Just wanted to get payback. He had it coming."
Comments will be moderated. Keep comments relevant to the article. Remarks containing abusive and obscene language, personal attacks of any kind or promotion will be removed and the user banned. Final decision will be at the discretion of the Taipei Times.