New tournament strives to support junior-high soccer
Master Football Academy (MFA) and Saturday Football International (SFI) on Sunday last week cohosted the inaugural U14 Taipei Youth Invitational Friendly Tournament at the Bailing soccer fields in Taipei's Shilin District.
The objective of the new tournament was to provide junior-high students the opportunity to play competitive soccer matches to continue their development and enjoyment of the sport, as many players fall out of the system at the age group.
This mainly occurs for two core reasons: With the transfer to junior-high school, students have a heavier and more challenging academic workload, while fewer junior-high schools offer sports, and students who do not make the grade have no chance to continue playing.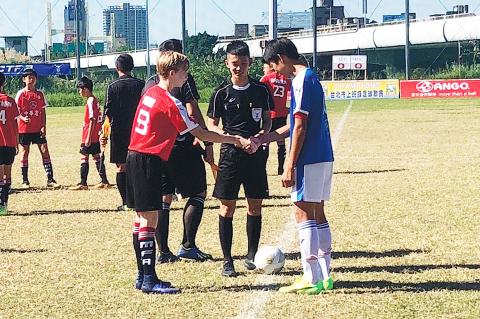 Captains of the Master Football Academy, left, and Saturday Football International shake hands ahead of the U14 Taipei Youth Invitational Friendly Tournament at the Bailing soccer fields in Taipei's Shilin District on Sunday last week.
Photo courtesy of the Master Football Academy
"We started [the academy] almost 15 years ago in Taipei when we struggled to find opponents at the elementary-school level, but today nationwide there are many thousands of players in school and club teams. Now the focus must be the retention of these youngsters as they move to junior high and beyond," MFA general manager Michael Chandler said.
"We appreciate Taiwan is an academic-driven society, but there is scientific evidence proving sports are very beneficial to academic study. The challenge at this development phase is the number of schools and clubs offering such programs, and of course the lack of suitable playing facilities," he said.
Four clubs — FCB, AC Academy, SFI and MFA — competed in the tournament that featured players at the early stages of adapting to the full-sized 11-a-side version of the sport.
The matches were of a good level and tightly contested, with chances created by all of the teams.
SFI, with three wins out of three, were crowned the inaugural champions.
"I believe that while funding and resources are extremely important, a true youth academy and club can only succeed if it is predicated on a set of powerful values that inspire young football players to be focused, committed and disciplined both on and off the pitch," SFI general manager Joe Boka said.
The four clubs are aiming to expand the competition and hold a second tournament in the spring.
Comments will be moderated. Keep comments relevant to the article. Remarks containing abusive and obscene language, personal attacks of any kind or promotion will be removed and the user banned. Final decision will be at the discretion of the Taipei Times.